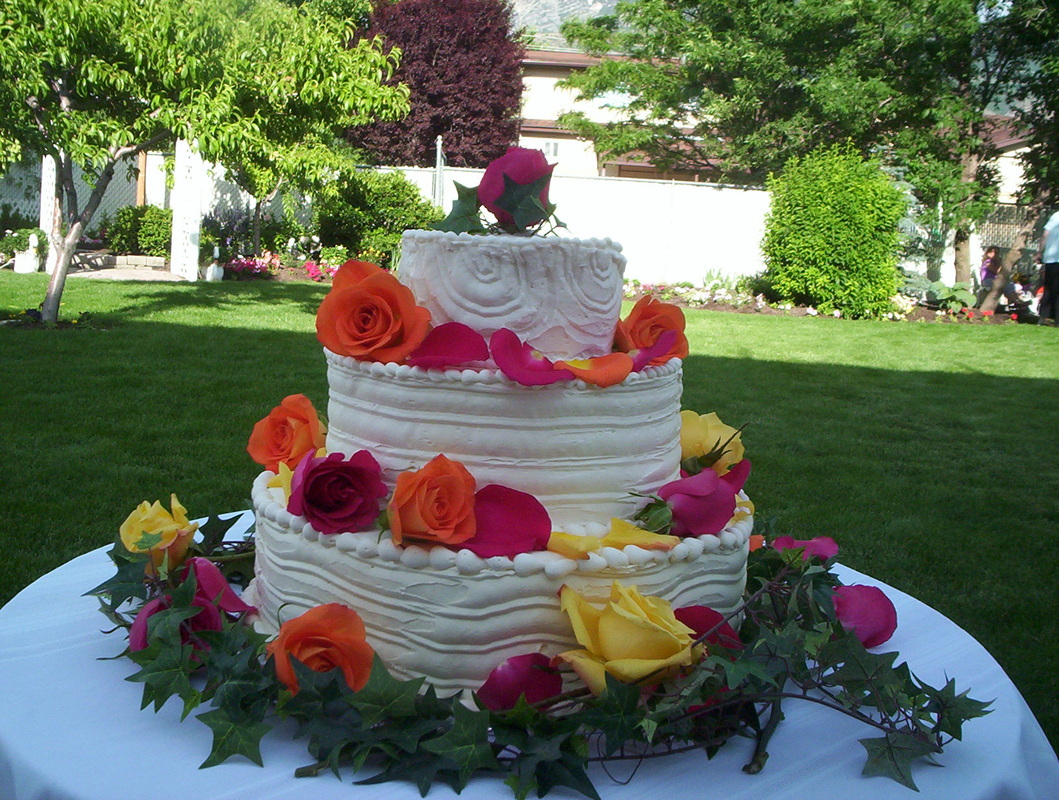 Do you love whipped cream but wished it would stay fluffy like whipped topping does?
Cool-Whip, move over; your superior is here! Airy, melt-in-your-mouth, delicately sweet, no hard-to-pronounce ingredients- what could be better?

Use this for topping pies, gelatin, cakes or cupcakes, or anything else you like! Stir in a little caramel sauce and it's either an amazing dip for apples or an incredible cake filling. Fold in some melted and cooled chocolate for a mousse-like topping. White chocolate is delicious mixed in.

The version below that uses gelatin gives the most firmness. I've kept it in the fridge for two weeks before, without the faintest hint
Yes, you can use this to decorate cakes! (Just don't let it get too warm, it will melt if it gets above about 90 degrees F, just like butter does.) This picture is my niece's wedding cake.

If you can't have dairy, use 8 ounces of chilled coconut cream to replace the dairy cream. Not cream of coconut, that's different. Coconut cream is the thick layer you find on top of canned coconut milk; Asian markets sell cans of straight coconut cream.

Stabilized whipped cream
½ pint whipping cream (8 oz)
½ tsp. vanilla
2 Tbsp. sugar or ¼ c. powdered sugar
1 Tbsp. Ultra Gel OR 1 tsp. unflavored gelatin*

If using Ultra Gel, stir it with the sugar, then add cream and vanilla and whip until stiff.

If using gelatin, put it with a tablespoon of water, let it sit a minute to soften, then microwave for 12 seconds to dissolve it. You could heat gently on a stove, if needed. Don't let it boil. Whip cream, sugar, and vanilla until they start to thicken a little, then slowly pour gelatin in while still beating. Whip until stiff. Chill it if you need it a little thicker.

Store any extra in the refrigerator.
__________________________________________________________
*Other ways to stabilize whipped cream:
(you can skip the Ultra Gel and gelatin if you use these)

-fold in 4-8 ounces melted and cooled chocolate (the more you use, the more truffle-like the frosting/mousse will be. Also, the darker the chocolate, the less you need.)

-Beat in 2-4 ounces of cream cheese.

-Before whipping, sprinkle in half a package of instant pudding powder. (This is really adding Ultra Gel, which is part of the pudding mix.)

-Substitute 1 1/2 -2 Tbsp honey or corn syrup in place of the sugar, or 3 Tbsp. any flavor jam or jelly. This will only lightly stabilize it, but works for things you'll eat in the next couple hours.