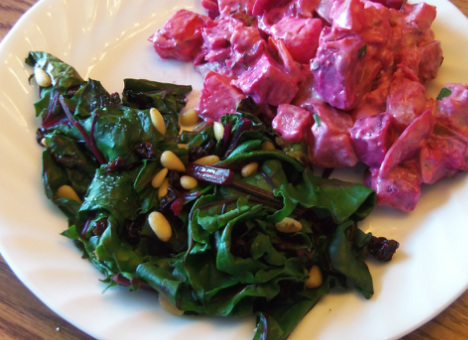 The last time I cooked beet greens for my family was about three years ago. I grew up eating them because I 'had to', and continued it because their nutrition content reads like a fantastic multi-vitamin:
protein, fiber, folic acid, phosphorus, zinc, calcium, iron, magnesium, copper, manganese, potassium, Vitamins A, C, E, K, and three different B vitamins
.
But I'll tell you what- after that last time cooking and eating those soggy, bitter greens (I might have burnt them a bit too) all by myself-- sort of plugging my nose as I did-- cuz, dang it, they're good for me! I thought that'd be the last time I cooked them.
When I pulled the first beets out of the soil this year, though, the old "you oughtta" came back. This time I was prepared with
The Best Vegetable Recipes cookbook
from the
America's Test Kitchen people
. They had a recipe that could be completed in under ten minutes and sounded like it might not be as terrible as my last attempt.
It was so good I ate seconds. My husband ate seconds. My kids at least ate firsts. And I shared this and
Pink Potato Salad
with a couple 'foodie' neighbors, who also loved them.
Not that anyone'd choose this over chocolate; maybe it was just that the greens were much better than anyone's latest memory of them, especially with the crunchy, fragrant nuts and the bit of sweet from the currants.
The amounts and technique will work on any moderately thick green like kale or chard. (The chard's up next in my yard.) The original recipe called for cutting out the stems, but they're also good, just take a bit of extra cooking to tenderize. They can be a little bitter, but the currants countered any of that.
The quantities I used were approximately
1-2 lbs. beet greens
1-2 Tbsp. olive oil
2 cloves garlic (or 1/2 tsp. garlic powder)
1/4 c. pine nuts, chopped (or other nut you like)
2 Tbsp. currants (chopped raisins work too)
See the slide show for instructions.