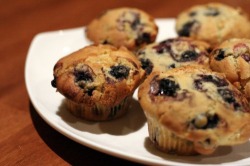 This recipe is very easy, plus changing muffin flavors is a cinch once you know the rules. I've listed some of them below. Let me know if you have any questions or issues.
-Rhonda
Simple Muffins
2 c. flour- can use half cornmeal, or whole wheat flour
1 Tbsp. to 1/2 c. sugar (I usually use 1/4 c.)
1/2 tsp. salt
1 Tbsp. baking powder
3/4 cup milk (or use 2 Tbsp.powdered milk and 3/4 c water- the powder goes in with the dry ingredients)
1or 2 eggs, beaten (2 is richer, 1 is fine)
1/4 to 1/2 cup cooking oil or melted butter (more makes it more tender and moist)
1 tsp. vanilla (only if you're making sweet muffins)
Stir together dry ingredients. Beat together the milk, eggs, and oil and dump all at once into dry ingredients. Stir just until combined, not until smooth. Divide into greased muffin tins and bake at 400 for 15-20 minutes, or until just golden. Muffins freeze well.
Optional
:To give your muffins a crunchy, sparkly top, sprinkle each with 1/2 tsp. sugar before baking. Other toppings include dipping the tops in melted butter after baking, then dipping into a bowl with cinnamon & sugar; brushing with lemonade concentrate, maple syrup, or other syrup; sprinkling with streusel before baking (1 Tbsp. softened butter + 2 Tbsp. brown sugar + 4 Tbsp. flour, cinnamon if you like, mix well); adding coconut topping before baking (1 Tbsp. softened butter + 2 Tbsp. sugar + 4 Tbsp. coconut), sprinkling on nuts before baking (or nuts and brown sugar).
Applesauce muffins
Add 1 Tbsp. cinnamon to dry ingredients, use 1 1/2 c. applesauce, leave out milk.
Banana muffins
Add 1-2 mashed ripe bananas, reduce milk to 1/2 c. Use 1 1/2 tsp. baking powder and 1/2 tsp. baking soda. For Banana Split muffins, also sprinkle the tops with chocolate chips and chopped nuts. When done, add a maraschino cherry. Or chop some up and add to the batter.
Blueberry muffins
use all white flour and 1/2 c. sugar; I also like 1/2 tsp. nutmeg. Add about 1 cup berries, stirring just to mix them in.
Chocolate-Raspberry muffins
add 1/4 to 1/2 c. raspberry jam to wet ingredients, stir in 1/2 to 1 c. chocolate chips. (depends on how much raspberry and chocolate you want!)
Cornmeal muffins
use 1 c. cornmeal in place of 1 c. of the flour. Also yummy to stir in 1 c. shredded cheddar cheese (or other- I like sharp), use only 2 tbsp. sugar, 1/8 tsp. cayenne if you want.
Any Dried Fruit muffins (dates, figs, dried apples, dried apricots, whatever sounds good)
Use 1/2 to 1 c. dried fruit, chopped or snipped with scissors to make pieces about 1/2 inch. Add 1/2 c. chopped nuts if you like, too.
Nut muffins
use half whole wheat flour. Use 1/4 c. brown sugar and 1/2 c. chopped nuts to the above recipe. Place 1/2 of a nut on top of each muffin.
Pumpkin muffins
use 1 c. pumpkin, reduce milk to 1/2 c, add 1 tsp. cinnamon, also 1/2 tsp. nutmeg, ginger, and/or ground cloves if you like them. Use ½-1 c. sugar. Also good to add blueberries (really!) OR chopped dates, or nuts, or chocolate chips.
Hundreds of variations! my rules for changing ingredients in muffins are:
Baking powder: if you're using an acidic ingredient (mashed fruit, buttermilk, a lot of brown sugar, etc.) use baking soda instead, but 1/3 as much. So 1 Tbsp. baking powder = 1 tsp. baking soda plus the acidic ingredient.
The wet stuff: mashed fruits (bananas, pureed peaches, applesauce, pumpkin, pureed/shredded zucchini, etc.) are at least 50% water, so 3/4 c. milk = 1 1/2 c. of these other things.
The dry stuff: You can use about any ground grain in place of the flour- cornmeal is gritty, though, so only use half, keep the other half of flour in. Whole wheat is good, but heavier, so use 2 eggs, or increase baking powder 1/2 tsp. Rolled oats/quick oats are lighter in weight; 1 c. flour = 2 c. rolled oats. Don't trade all the flour for oats; it'll be too dense. Leave about half the flour in, so 1 c. flour + 2 c. oats. Or use even less oats and more flour.
Spices: add whatever you like, it won't affect anything but flavor.
Another version of this recipe, with lots of options, is found at
https://docs.google.com/document/d/1aisBUs3v4tkcA8sseRSs5ELjP2pHMZpZ-qqEbIp9jVQ/edit
#