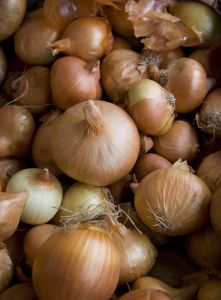 Do you know how to get the longest life out of your vegetables? The pioneers used to store fresh fruits and vegetables all winter long, with no jars, cans, or freezers. You can do the same, even without a nice root cellar. The trick is to know what temperatures to store at, and what places in your house may be the right temperature. For instance, my garage is great. Some areas in my garage froze during February, but anything kept off the floor didn't freeze. So I kept potatoes and onions in my garage all winter. Other places to check are basement rooms (especially unfinished areas, or utility rooms), and sheds. Different parts and heights in a room will even have different humidity and temperatures. You can buy a simple thermometer for about a dollar. Refrigerators are great if you have enough room, though they obviously use up energy. The closer to the "ideal" temperature and humidity you can provide, the longer the food will last. You can store things in less than perfect conditions, just don't plan on them lasting as long. Below is a link to a pdf for storing vegetables. Here's information on some of the most common things to store. The link has info on many more. For right at, not below, freezing temperature, with high humidity, Beets (will store 1-3 months), Cabbage (3-4 months), Carrots (4-6 months), Celery (2-3 months), Garlic (6-7 months), Onions (5-8 months)
For about 40 degrees, high humidity- Potatoes (5-8 months)
50 degrees, med-high humidity- Pumpkins (2-3 months), hard Winter Squash (banana squash, butternut, acorn squash, Hubbard, etc- 3-6 months)
The link has info on many more. One note- if a food stores best in high humidity, some ways to provide that are: (1) store the food in moist, not wet, sand, peatmoss, or sawdust. Keep in bins or boxes with loose-fitting lids, or cover loosely with a cloth or towel. (2) Store in a room with a bare cement or bare dirt floor. Sprinkle water on the floor every few days. (3) Store in a pile, on top of straw or similar, outside in your garden- cover with a layer of grass clippings, leaves, or straw. Cover it all with a 4-6" layer of dirt. (4) Mini root cellar- dig a big deep hole, drop in a food-grade plastic barrel, put a layer of grass clippings, leaves, or straw in the bottom, put in a layer or two of vegetables, another layer of clippings, repeat until full. Put a lid or board over the top, cover with a layer of clipping, then a 6" layer of dirt.
http://www.uga.edu/nchfp/how/store/wisc_vegetables.pdf
Happy storing!
-Rhonda
Bacon Potato Soup
6 cups potatoes, peeled and diced
5 cups water
2 cups chopped onions, about 2 medium
4 chicken bouillon cubes or 4 tsp. instant chicken bouillon granules can be substituted
6 slices bacon, cooked and crumbled
1 can (12 ounces) evaporated milk, or 1 1/2 c. half-and-half, or plain milk if that's what you have
2 cups grated cheddar cheese
Combine potatoes, water, onion, and bouillon cubes in greased 5 to 7 quart slow cooker. Cover and cook on low heat 6-8 hours or until potatoes are tender. OR simmer in a large covered saucepan about 30 minutes, until tender. Stir in crumbled bacon, milk, and grated cheese. Cover and cook an additional 20 minutes or until cheese is melted. Makes 10-12 servings.
Serve with hot biscuits and garnish soup with fresh chopped parsley.

Variation: Add 1/2 cup diced celery and 1/2 cup chopped carrots with potatoes at the beginning of cook time.