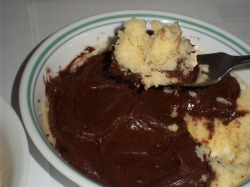 You, too, can be just two minutes away from a personal-sized warm cake. One minute to find a cake-mix box and mix 1/2 cup of it with 1/4 c. water, one minute to microwave. This one is yellow-cake 'warm delights' with chocolate frosting. My favorite is chocolate cake with a couple mini chocolate-almond bars broken into it.

Great for those smaller households or college students!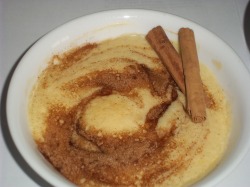 OK, I think this looks like a bowl of Cream of Wheat. It's really yellow cake with 1 1/2 tsp. cinnamon sugar swirled on top before cooking. Yum.
I know the cake mix calls for eggs, but I made this mini version both without eggs and with the right (tiny) amount- they were nearly identical. The batch with egg in it rose a little bit higher, but that was about it. Not worth dividing an egg for.

Scroll to the bottom of this post for the complete recipe.
(originally 5/21/10)

The LDS Church has a wonderful, helpful website, providentliving.org. The name got me thinking, what does 'provident' really mean? I know the general idea, but what are the details of it? So here's what I found. Some synonyms for it are: careful, conserving, frugal, prepared, prudent, scrimping , thrifty, vigilant, wise.
Antonyms include careless, extravagant, shortsighted, wasteful.
So basically it means being wise with your resources and planning ahead. Right along with 'self-reliance', it means planning so that you "rely on yourself" in emergencies or difficulties, not on the city, or the government, or the church, or your neighbor's food storage. We'll share, and you know it, but if you're prepared, then you have the blessing of helping others instead of using resources up faster. We have the safety nets of family, church, and community in place, and sometimes we have to use them, but we are to plan so we have to rely on those backups as little as possible. Don't make your Plan A "have someone rescue me". That's Plan B or Plan C. Or D. The Visiting Teaching message from January 2010 included this from Sister Julie B. Beck:
"'Self-reliance means using all of our blessings from Heavenly Father to care for ourselves and our families and to find solutions for our own problems.' Each of us has a responsibility to try to avoid problems before they happen and to learn to overcome challenges when they occur. …
"How do we become self-reliant? We become self-reliant through obtaining sufficient knowledge, education, and literacy; by managing money and resources wisely, being spiritually strong, preparing for emergencies and eventualities; and by having physical health and social and emotional well-being."1

So there's a lot to it, but think about this one: are you preparing for emergencies and whatever else may/will eventually happen? Earthquakes, job loss, sickness, car repairs…prayerfully put plans in place to avoid and overcome these challenges. "Organize yourselves, prepare every needful thing"- D&C 88:119. If you need any help on your journey to provident living, your visiting teachers will be glad to help; I will too. Pat yourself on the back for what you've already done, and figure out what's next. I know that the Lord will bless you as your exercise faith in this principle.
* * * * * * * "Warm Delights" copycat (10 cents per serving when cake mixes are on sale….)
½ cup any flavor cake mix
1/4 cup water
Microwave in a bowl for 1 minute, let stand a couple minutes to cool.
If you like, add before cooking: 1 Tbsp. chocolate chips/chunks or a few Hershey's kisses for Molten Chocolate, a few unwrapped, quartered caramels, or a generous sprinkle of cinnamon sugar lightly swirled in;
use your imagination!
After cooking, add a drizzle of caramel topping, lemon sauce, fudge sauce, whatever sounds good.
For
upside-down German Chocolate
, mix together 1-2 Tbsp. cream cheese, 1 tsp. sugar, and 1-2 tsp. coconut.
Dollop on top before cooking the cake.
One cake mix will yield about 9 of these.
Or use Bisquick: 1/3 c. mix, 1 ½ Tbsp. sugar, 1 Tbsp. unsweetened cocoa with 1/4 cup water.