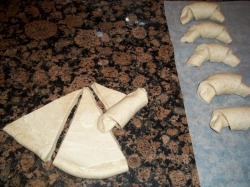 To make 2 oz. Butterhorn rolls- start with one pound of dough and roll it into about a 12" circle. Spread softened butter on all except the middle, leave about a 2-3" circle unbuttered so the dough can stick to itself. With a pizza cutter or knife, cut into eight wedges. Roll each one up, starting with the wide edge. Pinch the point so it sticks to the rest of the roll. Put the rolls on parchment or a greased baking sheet, point-side tucked securely underneath so it doesn't unroll during baking. Curve ends a bit, then cover and let rise.
If you're making a bunch of these, use a loaf's worth of dough (about 1 1/2 lbs), roll into a 12-15" circle, and cut into 12 wedges.
Great gift bread for Christmas- the Candy Cane loaf. This one has a raspberry-chocolate swirl through it; see the slice at right. I like to give these to neighbors with a little poem about the symbolism of the candy cane
This week here is a review of the ideal we work towards as women, and then the info from the Dinner Rolls class I held this week.
---------------
Have you read Proverbs chapter 31 lately? I think most of us remember reading verse 10, but look what else it says. I know that all of us can grow by picking something in here to begin or continue our efforts on. Are you 'afraid of the snow for [your] household'? Or are they going to be fine through lean times because of your preparations?
10
¶Who can find a
a
virtuous
b
woman? for her price is far above rubies.
11
The heart of her husband doth safely
a
trust in her, so that he shall have no need of spoil.

12She will do him good and not evil all the days of her life.

13She seeketh wool, and flax, and worketh willingly with her ahands.

14She is like the merchants' ships; she bringeth her food from afar.

15She ariseth also while it is yet night, and giveth meat to her household, and a portion to her maidens.

16She considereth a field, and buyeth it: with the fruit of her hands she planteth a vineyard.

17She girdeth her loins with strength, and strengtheneth her arms.

18She perceiveth that her merchandise is good: her candle goeth not out by night.

19She layeth her hands to the spindle, and her hands hold the adistaff.

20She stretcheth out her hand to the apoor; yea, she reacheth forth her hands to the needy.

21She is not afraid of the snow for her household: for all her household are clothed with scarlet.

22She maketh herself coverings of tapestry; her aclothing is silk and purple.

23Her in the gates, when he sitteth among the elders of the land.

24She maketh fine linen, and selleth it; and delivereth girdles unto the merchant.

25Strength and honour are her aclothing; and she shall rejoice in time to come.

26She openeth her mouth with wisdom; and in her tongue is the law of akindness.

27She looketh well to the ways of her household, and eateth not the bread of aidleness.

28Her children arise up, and call her blessed; her husband also, and he praiseth her

29Many daughters have done virtuously, but thou excellest them all.



30Favour is deceitful, and abeauty is vain: but a woman that bfeareth the Lord, she shall be praised.

31Give her of the fruit of her hands; and let her own works praise her in the gates.



For the basic bread recipe along with these variations, see my Google Docs version

This makes 2 dozen 2 oz. rolls (if basic shape rolls, closely spaced, they'll fill a 12x18 baking sheet perfectly), two dozen medium-small cinnamon rolls (a trayful), two 8x4" loaves, OR three 1-lb. 'candy cane' loaves.


Dinner Roll/ Sweetbread Dough

3 cups flour to start with (5-6 cups total)
2 tsp. salt
2 tsp. yeast
¼-1/3 c. sugar
3 Tbsp. oil or butter
1 egg
2 cups hot water or milk (no hotter than 130 degrees F or it will kill the yeast)

Mix salt, yeast, sugar, oil, water, and first amount of flour in a bowl. Beat about two minutes with a wooden spoon. Stir in half of what's left, then mix in more until too stiff to stir. Dump out onto a floured counter and knead for 8-10 minutes, adding only enough flour to keep the dough from sticking to the counter. The dough should be smooth and elastic after kneading. (Yes, you could use a stand mixer for this, too….)

Cover with a kitchen towel or plastic grocery bag and let rise 1 to 1 ½ hours, or until doubled. Punch down and shape into rolls or loaves. Place on greased baking sheet or in 8x4 loaf pans and let rise about 45 minutes or until nearly doubled. Bake at 350 for about 30 minutes or until the bottoms of rolls, or sides of loaves, are brown. (Tip a loaf out of the pan to check.) Remove from pans and cool on a rack.


This is my basic bread recipe with three tweaks: egg, milk, and more sugar.

The egg helps make the bread more moist, springy, higher-rising, and tender. The white helps add strength and leavening. The yolk adds a tiny bit of color, plus some richness and tenderness from the natural fats in it, especially from the lecithin (worth a whole blog post just for lecithin!) it contains.

Milk helps a little bit with browning, as well as making the internal structure ("the crumb") softer and smoother. It's one of those things that may be harder for an amateur to notice, but it makes enough of a difference that I always use it in sweet breads for competitions. If you have powdered milk available, just mix the milk powder in with the other dry ingredients, and use water. For this size batch, you'll use 6 Tbsp powder, which is just over 1/3 c.

Sugar makes a big difference in the crust browning, or 'caramelizing', as well as in the flavor of the bread. Sugar can also help the yeasts grow, but it only helps to a certain point. No-sugar-used bread will still rise, but will take twice as long. And you can get it to brown, too, because of the natural sugars in the flour, but you have to use a higher temperature. When I'm making bread with no sugar, I bake it between 400 and 450 degrees F, which gives a nice brown crust. If you cook bread with sugar in the dough, if you cook that hot it will be black on the outside before the inside is done. When baking sweetened breads like this, then, keep the temperature between 350-400; the bigger the loaf, the lower temperature. Smaller things, like individual rolls, can still handle up to 400 degrees because the insides can cook quickly. The other thing about sugar, helping the yeasts grow, is kind of funny. A moderate amount of sugar is good food for the yeast, but over a certain point actually slows down its growth. To compensate, let it rise a little longer, or add more yeast.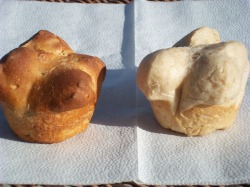 How long the rolls are in the oven will make a HUGE difference in how dry or moist and velvety they are. Cook them just until the bottoms are brown and they sound a bit hollow. They will continue to cook for 15-20 minutes after coming out of the oven. The roll on the left is overbaked and is dry. The one on the right is perfect. If you want more color on top, brush with oil or butter after baking; this will intensify the color that is there. You can also brush them before baking, with milk, beaten egg, or melted butter. Each one has a little different effect; see which you prefer.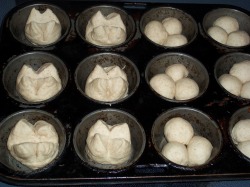 (left) Mock Cloverleaf rolls, (right) Cloverleaf rolls. Start with 2 oz dough, a little bigger than a golf ball. For the Mock style, shape it into a smooth ball, put in greased muffin tins, and make two snips with scissors to create four points.
For the Cloverleaf, divide each golf-ball-sized into three; shape each into a smooth ball.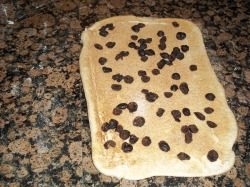 For cinnamon rolls, roll dough into a rectangle. A two-loaf batch will make 2 dozen; roll into a 24x10 rectangle, spread with butter (so the rolls will 'peel' open and let frosting seep between the spirals!), sprinkle with cinnamon and sugar, raisins if you want. Roll up and pinch to seal.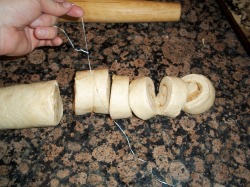 Cut into 1" sections using dental floss or thread, put on greased baking sheet, let rise, and bake. Frost (Cream Cheese Frosting is great!!!) or glaze while warm.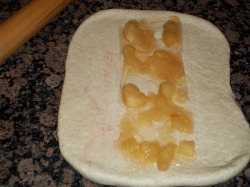 To make a filled ladder loaf, roll dough into a rectangle. I used one pound of dough and rolled it to about 8" by 14". Whatever amount of dough you use, roll it to about 1/4-inch thick. Put filling down the center third. I used apple pie filling from a can, but you can use cream cheese and jam, rehydrated dried fruit, nuts and cinnamon, or thinly sliced or chopped fruit, sweetened or not, depending on what you have. What's in your house or yard that might taste good in this?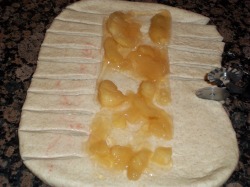 Make cuts about an inch apart. You'll want to have the same number on each side. A pizza cutter makes great work of slicing.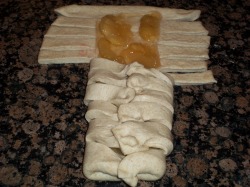 Bring opposite slices together; pinch together in the middle to seal them. Let it rise until dough is nearly doubled, then bake. Great with a drizzle of glaze (powdered sugar and water), maybe with a sprinkle of cinnamon or nuts on top for a nice presentation.