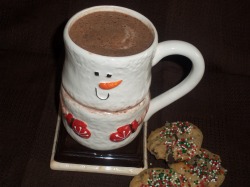 Merry Christmas!

Here is a simple thing to make with your family- hot chocolate. There are a few different ways to make it- you can add chocolate syrup to milk, or you can melt a chocolate bar into milk, or you can make it the old-fashioned way, starting with unsweetened cocoa. It's really fast and easy.

May you have a wonderful Christmas, full of the spirit of love and of God.

-Rhonda

Homemade Hot Cocoa

1 Tbsp. unsweetened cocoa powder
1 Tbsp. sugar or honey
1 cup milk
Pinch of salt, ¼ tsp. vanilla, optional

Stir together the cocoa powder and sugar. Stir in 2 Tbsp. milk, mix until smooth. Bring to a boil, either on the stove or in a microwave. This is to dissolve the sugar and bring out the flavor of the cocoa. Stir in the remaining milk, the salt, and vanilla. Heat to the temperature you like. Top with marshmallows or whipped cream if you have them.

This recipe can be sized up to whatever you like. I usually make a 4-cup batch, using the microwave, and a canning jar for my cooking container.

This makes a 'milk chocolate' flavor. If you like it darker, use 1 1/2 – 2 Tbsp. cocoa. If it's bitter, add the same amount additional sugar.

For mint chocolate, use whatever form of mint you have- mint extract, peppermint patties, or crushed candy canes.

For raspberry flavor, you can use 1 Tbsp. of raspberry Jello powder instead of the sugar. Orange is another good flavor to make this way.

If you like richer cocoa, use whole milk, or a bit of cream, evaporated milk, or half-and-half.

To make it frothy, use a blender, or an immersion blender, to whip it. This works especially well if you used powdered milk!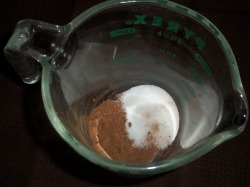 The cocoa and sugar, ready to be stirred.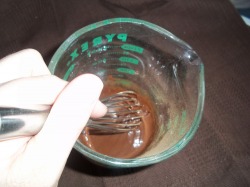 Add as much milk as you have of the sugar and cocoa- in this case, 2 Tbsp. You want to make a smooth, pancake-batter-consistency slurry.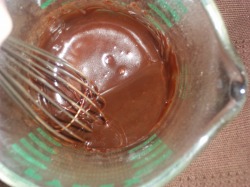 Bring it to a boil to dissolve the sugar and 'bloom' (bring out the flavor of) the cocoa. Once it's at this point, add the rest of the milk, along with salt and vanilla if you want them.