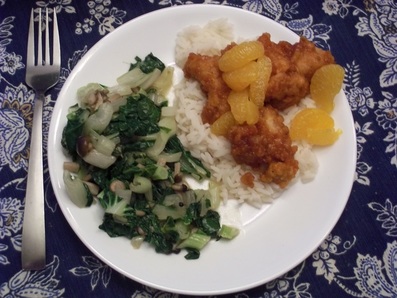 Tiny Spicy Chicken is great over rice, with a little fruit to help balance out the heat. Bok choy is great on the side.
Do you have children or grandchildren who are afraid of what's lurking under their beds? Here's the perfect solution, found on Meridian magazine online a couple months ago:

The Monster Under the Bed

"I overheard my two young adult sons talking. One asked, "Do kids really think there are monsters under their beds?" The other one answered: 'I never did. There was always so much food storage under there that I knew there was no room for a monster.'"
So let's all chase out those monsters! For a lot of suggestions on storing food when you have little space, see the Food Storage Made Easy page.
______________________________
This recipe came from a class at the Macey's in Logan, back when I lived there. "Tiny Spicy Chicken" was one of the entrees at Mandarin Gardens, a local Chinese restaurant. Maybe it's a Cache Valley specialty, because I haven't run into anyone not from there who has had this dish.
Tiny Spicy Chicken
3 lbs. boneless, skinless chicken, cut into 1 ½ " cubes
garlic salt
2 beaten eggs
1 cup cornstarch
¼ c. oil
Sprinkle chicken with garlic salt, let sit for 1 hour in the fridge. Heat oil in a large frying pan. Dip chicken into eggs, then roll or shake in a bag with cornstarch. Brown chicken pieces in the oil, until golden brown. Put in a greased 9x13 pan.
Shortcut method: use 1- 1 ½ lbs. fully cooked chicken nuggets, frozen is OK. (Don't use 3 lbs nuggets; they have too much breading that soaks up this sauce.)
Sauce
:
½ -1 tsp. chili paste*
1 c. sugar
½ c. ketchup
2 tsp. soy sauce
Dash of salt
½ c. chicken broth
¼ c. brown sugar
½ c. vinegar
Sauce will be very runny. Pour over chicken (if using chicken nuggets, mix the sauce in the 9x13 pan, then add the chicken) and stir to coat. Bake at 425 degrees for 10-15 minutes, stirring once or twice during that time. Serve over rice.
Alternate cooking methods: bake at 325 degrees for 1 hour, stirring a couple times, or put in a crockpot and cook on low for 5-8 hours.
*Sambal chili paste can be found in the Asian section at Macey's grocery store, it probably can be found at most other grocery stores. If you don't have it, or can't find it, substitute red pepper flakes. Start with 1/4 tsp., put it in the sauce, then taste to see if it's as hot/mild as you like.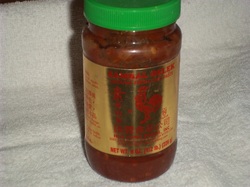 Chili paste is made from whole, hot chilies, ground up, and mixed with a little vinegar. It includes the seeds, so it packs a punch.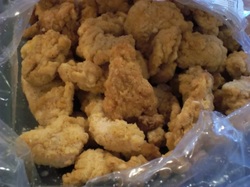 If you use raw chicken breasts, the recipe takes about 1 1/2 hours to make. If you start with these, you can have it done in 20 minutes.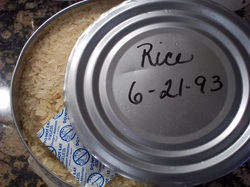 Aren't cans and oxygen packets great? I opened this can just yesterday. And yes, 6-21-93 was when it was sealed.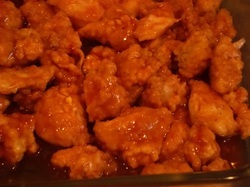 The chicken, coated with sauce, ready to bake.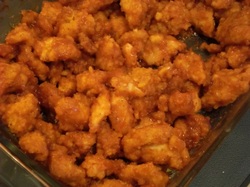 Baking it condenses the sauce and helps it soak into the coating on the chicken. It's a little sweet, and a little zippy.