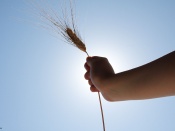 image courtesy photos8.com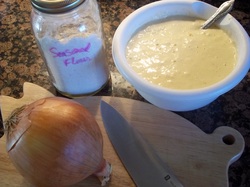 Seasoned flour is fabulous to coat any meat before cooking. It's also delicious added to onion-ring batter. All you do is mix 1 cup pancake batter with 1 Tbsp. seasoned flour.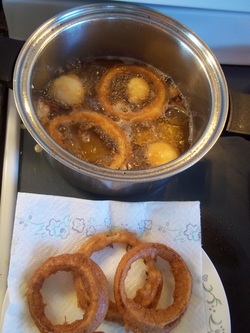 Slice an onion and separate it into rings. I like to leave the center tiny rings together. Dip into batter, and drop into 375-degree oil. It will take only 1-2 minutes per side to cook. Drain on paper towels.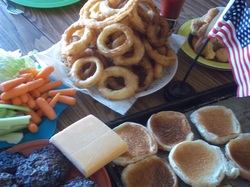 One giant onion (18 ounces!) and a half-hour later, we have a giant pile of delicious onion rings.
This recipe is kind of a shake-and-bake thing, but cheaper and fresher. It is really delicious with any kind of meat- chicken, beef, pork, fish, you name it. Put ½ cup of this on a plate, then dredge (dip) raw meat in it, coating both sides. The mixture is pretty salty, so use serving-sized chunks of meat. If you're going to coat chicken-nugget-sized pieces, combine mixture with an equal amount of cracker crumbs or flour, or the meat will be too salty. (Lesson learned the hard way.) Heat up 1-4 Tbsp. of oil in a saucepan on medium-high heat, then cook the meat until as done as you like. Any leftover (used) seasoned flour can be kept in the freezer until you need it, or mix it into a batch of biscuits, breadsticks, or cornbread. My new favorite use for seasoned flour is Onion Rings: make pancake batter (any recipe, don't add oil or butter) but add 1 Tbsp. of Seasoned Flour to it for each cup of flour or pancake mix you used. Slice an onion and separate it into rings, dip them into the batter, and deep fry a few at a time until golden. NO restaurant onion ring in my memory can compare to this!

Seasoned Flour
4 cups flour
3 Tbsp. seasoned salt
3 Tbsp. garlic salt
3 Tbsp. onion salt
3 Tbsp. pepper
3 Tbsp. salt

Mix together and store airtight in cupboard. Makes about 4 ½ cups.

If you don't have garlic salt or onion salt, use
4 cups flour
3 Tbsp. seasoned salt
1 1/2 tsp. garlic powder
1 1/2 tsp. onion powder
3 Tbsp. pepper
1/4 c. salt


If you don't want to keep more than a quart jar's worth, give the extra 1/2 cup to a neighbor to try- they'll want the recipe too!

_______________________
Have you heard this before? It's a quote from Brigham Young (if you're short on time, just read the bold):

"Were I to ask the question, how much wheat or anything else a man must have to justify him in letting it go to waste, it would be hard to answer; figures are inadequate to give the amount. Never let anything go to waste. Be prudent, save everything, and what you get more than you can take care of yourselves, ask your neighbors to help you. There are scores and hundreds of men in this house, if the question were asked them if they considered their grain a burden and a drudge to them, when they had plenty last year and the year before, that would answer in the affirmative, and were ready to part with it for next to nothing. How do they feel now, when their granaries are empty? If they had a few thousand bushels to spare now, would they not consider it a blessing? They would. Why? Because it would bring the gold and silver. But pause for a moment, and suppose you had millions of bushels to sell, and could sell it for twenty dollars per bushel, or for a million dollars per bushel, no matter what amount, so that you sell all your wheat, and transport it out of the country, and you are left with nothing morethan a pile of gold, what good would it do you? You could not eat it, drink it, wear it, or carry it off where you could have something to eat. The time will come that gold will hold no comparison in value to a bushel of wheat. Gold is not to be compared with it in value. Why would it be precious to you now? Simply because you could get gold for it? Gold is good for nothing, only as men value it. It is no better than a piece of iron, a piece of limestone, or a piece of sandstone, and it is not half so good as the soil from which we raise our wheat, and other necessaries of life. The children of men love it, they lust after it, are greedy for it, and are ready to destroy themselves, and those around them, over whom they have any influence, to gain it" (Journal of Discourses, 1:, p.250).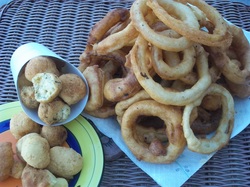 The onion rings and some hushpuppies. This was from a 2-cup batch of onion ring batter. Next time I'll use 1 cup and a normal-sized yellow onion.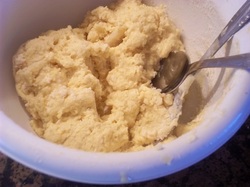 If you have extra batter, you can add a little oil or melted butter (for tenderness), and stir in cornmeal and/or flour until it's thick enough to get round spoonfuls. Also nice with some dried parsley for color. Drop the spoonfuls into the hot oil, flip to the other side after a minute. Drain on paper towels, too.