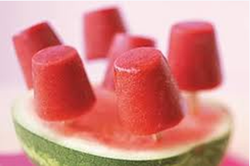 Cold, sweet, and slightly tangy Strawberry Pops.

Photo courtesy Anitra Kerr
Today I bought more strawberries, they weren't as cheap as they've been past years, but they're awfully good. Meanwhile, I'm anxiously waiting for all the blossoms on my strawberry plants to become fruit!

I got this recipe in a newsletter (SimplyLivingSmart.com) and wanted to pass it on. The original recipe called for powdered sugar or agave, but use whatever sweetener you like.


Strawberry Pops
1 1/2 pints strawberries, rinsed and hulled
sweetener to taste: about 1/4 c. sugar or agave, or 3 T. honey, or 1/2 c. powdered sugar, or 3-4 packets of stevia

Pulse strawberries with sugar and 1/3 cup water or orange juice (YUMMIER) in food processor until pureed, with some chunks of berries remaining. Pour half of mixture into a bowl.
Pulse remainder until smooth. Stir puree into mixture in bowl. Pour into 3-ounce molds or plastic cups, insert sticks or wooden spoons, and freeze until solid, at least 8 hours.

I'm going to make some strawberry-rhubarb pops: using one chopped and cooked stalk of rhubarb in place of a half pint of the strawberries. There should be enough sugar in the recipe anyway (if not, I'll add 'til it tastes good), and the rhubarb with give it a little kick. Kind of like the orange juice does, but a little more tangy. And a dash of vanilla is always good.