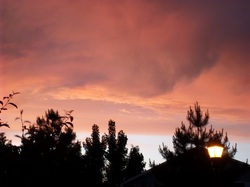 When everyone's out of school, what do you like to do?
I've always been the kind of person who wonders where that side road goes, who likes to stop and read all the historical markers, and who likes to explore little areas to look at trees, or rocks, or whatever is there. Last year I decided it was time to start doing some of those things, instead of just wondering what was out there and feeling trapped in a rut. And have fun with my children, exploring with them.
I started with a brainstorming list; local places I'd wanted to visit. Then I asked my children what places they wanted to go. Not surprisingly, most of their 'wish list' places charge money to go to. We go on a little 'field trip' once a week, while my husband is at work. The biggest way to keep my teenagers happy is by including a 'food stop'. For instance, when we go on a hike to the waterfall up
Battle Creek canyon
, we first stop at Daylight Donuts, a cute old house that's been converted to a drive-through donut shop. When we go to visit friends in Cache Valley, we either visit the Gossner cheese factory to get fresh cheese curds ("squeaky cheese"!), or drive up to the Pepperidge Farms factory to see what goodies are at their outlet. And we 'have to' visit the Climbing Tree at the mouth of Blacksmith Fork canyon- a fabulous old willow with some branches that obligingly rest on the ground so little ones can climb up. Before we go, I also like to look up history or tidbits about the area, so I can talk to my kids about it as we drive, or point out things like the old trail along the road, or where the railroad used to run, or where the pioneers built their first reservoir.
When we drive into the mountains and come out through a different canyon, I pull out our map when we're home, and show them how the canyons and mountains connect. Most of what we do just costs gas money, plus whatever snack we stop and buy to eat. About once a month we'll do something that costs more.
What's interesting in your area? Ask neighbors, a random mom at the grocery store, look online, call your city's tourism center. Here's part of our Ideas List: (Everything's more fun when you invite another mom and kids to come with you! And as you can see, we never get everything done in one summer!)
-drive all the way up Emmigration Canyon, loop across to Heber. Stop at
Granny's
for shakes, stop at the old train depot to see the
Heber Creeper
. Go home through Provo Canyon, stop to play and eat lunch at Vivian Park (bonus if the Heber Creeper comes puffing in while we're there). One of these times I'll let my older kids tube down the river, too. This route passes 5 reservoirs- tell my kids their names and a little history, including which one supplies our family's water.
-visit Stansbury Island (west side of the Great Salt Lake) to see the
oolitic sand
. Float in the lake.
-dig for
geodes near Dugway

-ride bikes over to the nearby lake, play in the stream and lake, watch the clouds go by.
-find some of the hot springs in the area
-drive back to the family farm (2 hrs away), walk by the river, hike up the old cabins, then climb the hill.
-visit the Fremont Indian sites to see the hieroglyphics; see the Anasazi dwellings (takes more gas money, this is in the "more expensive' category)
-visit
This Is The Place Heritage Park
- try to time it so the mulberries are ripe on the trees lining the dirt street. Remember a little money to buy old-fashioned candy from the glass jars in the General Store.
-drive through Parleys Canyon (originally the
Golden Pass Toll Road
), brush up on the history of the canyon,
Sentinel/Suicide Rock
, and
Park City
. (Great family history; Parley P. Pratt is an ancestor of mine.) Drive home through Provo Canyon, stop to hike to Bridal Veil Falls. Stop at La Brioche, an Argentinian bakery started by a former neighbor of mine, for their bread-apart bread ($1.79/lb, similar in taste to French bread) and Dulce de Leche-filled meringue cookies.
-hike to the Y, visit my sister, and get ice cream at the BYU Creamery. If we're not worn out, also go through the
Monte L. Bean Life Science Museum
(which is free; it's also one place I worked when putting myself through college). Maybe make it a separate trip and also see the
Museum of Paleontology
.
-Visit the
Kennecott (Rio Tinto) copper mine
again.
-Spend a day at the Thanksgiving Point Gardens (probably just the
Children's Discovery Garden
, for them- shrub mazes, water features to splash in, miniature lighthouse to climb....) Maybe have lunch at Porter's (or at the Garden), or drive a few more miles to The Peppermint Place's outlet.
-day trips with just the older kids: hike Mt. Olympus, or Timpanogos. Visit Timpanogos Cave.
- Go to Fault Line Park, have races rolling down the steep hill, which is a fault scarp. Eat lunch there, drive over to the
G.K.Gilbert Geologic Park
, (also see
here
) which is on another part of the fault line, as well as on a glacial moraine.
-spend a morning at the
Wild West Jordan Park
. Munch on Conchas, Cochinitos, and/or bolillos from Alicia's Panaderia (Mexican bakery) nearby.
If you want more Utah ideas, check out
Utah Family magazine's "No Bored Kids" summer calend
ar or
Utah Outdoor Activities
. If you're in a different area, try a search for similar terms.