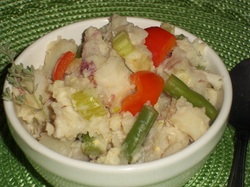 This potato salad is just right for a nice main dish. It has bits of bright flavors and crunchy sweetness; one of my favorite salads.

It uses those fabulous, creamy "new potatoes" that are a hallmark of hot summer days. This is tossed with a basic vinaigrette instead of the usual mayonnaise, then fresh vegetables are mixed in.
1 1/4 pounds small red potatoes, cut in 3/4" cubes
Vinaigrette, below
1/2 pound green beans, sliced into 3/4" pieces
3 c. sliced mushrooms, optional*
6-8 oz. smoked turkey, sliced into 1x 1/4"x 1/4" strips
1 sweet red bell pepper, sliced into 1/2" pieces
2 stalks celery, sliced diagonally
1/4 -1/2 c. diced purple onion
1/4 c. fresh parsley, minced

Vinaigrette:
1/2 c. water (use the cooking water from potatoes)
1/2 tsp. chicken bouillon (or cook potatoes in chicken broth)
2 Tbsp lemon juice or white wine vinegar
1 1/2 tsp. Dijon or other mustard
1 Tbsp. olive oil
1/4 tsp. salt
1/8 tsp. freshly ground pepper

Cook potatoes in boiling water; they should take just about 15 minutes to become tender. Meanwhile, in a large bowl, whisk together all ingredients for Vinaigrette except for the water. When potatoes are tender, scoop them out with a slotted spoon and add to the bowl. Toss to coat. Add green beans to the still-hot cooking water; bring to a boil. Cook for 4-5 minutes, until the beans are crisp-tender. Scoop them out and add to the potatoes, then measure out 1/2 c. of the cooking water and add to the mixture. If you want the salad served chilled, refrigerate it at this point.

Add mushrooms, turkey, bell pepper, celery, onion, and parsley. Stir to coat, and serve.

*If using mushrooms, double the ingredients for Vinaigrette; mushrooms are very absorbent.

The original recipe called for 1/4 lb. less potatoes and 1/4 lb. more meat. If you love meat, you'll probably prefer it with more. I tend to use meat more as a flavoring than as a main ingredient; it's cheaper, and makes a lighter salad.