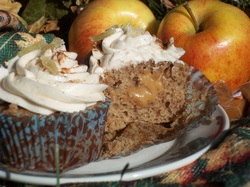 Hey, I know what this is starting to look like... and no, I really don't make cupcakes ALL the time!
I had a quarterly lunchtime get-together with some friends, and we all brought food. So that's my excuse this time around. That said, everyone flipped over these cupcakes, and insisted that I share the recipe.
True to form for me, there is no single-page recipe for this: I took a regular cake recipe, added applesauce and spices to it, filled it with something complimentary I had in the cupboard, and made my favorite frosting, using cream cheese in it this time.
If you have a copy of
The Chameleon Cook
, the plain (yellow) cake recipe is on page 74, and the frosting recipe is on pages 76 (Boiled Milk Frosting) and 78 (Cloud Frosting variation). I made a half batch of frosting; it ran out on cupcake #19. If you like a lot of frosting, especially when it's fluffy, creamy, and not too sweet, make the full batch. If you like a strong cream cheese flavor, instead of using 2 sticks (8 oz.) butter and 8 oz. cream cheese, decrease the butter to 1 stick (4 oz.) and add an extra 4 oz. cream cheese (total 12 oz.) To make it even more rich, reduce milk to 1/2 cup, Ultra Gel or flour down to 2 Tbsp, and sugar down to 1/2 cup.
For the cupcakes:
Take any white or yellow cake recipe, or a boxed mix
.
Use the same ingredients and instructions as the recipe or box says, except:
Add 1 cup applesauce or pumpkin puree
to it, and reduce the liquid the recipe calls for by 1/2 cup (this means reduce the milk to 3/4 cup if you're using my recipe)
Applesauce or pumpkin puree, for cooking purposes, acts like about 50 % water.
Stir in any or all of these spices: using all of them gives a full, round flavor, but if you only have cinnamon, it'll still be good:
1 Tbsp. cinnamon
1 tsp. ground ginger
, or 1 Tbsp. grated fresh, or 1-2 Tbsp. chopped crystallized ginger :-)
3/4 tsp. cardamom
1/2 tsp. allspice
1/2 tsp. ground cloves
1/4 tsp. ground nutmeg

If you like, also add 1/2 c. chopped walnuts, pecans, or hazelnuts, and/or 1/2 c. raisins
Bake according to regular instructions.
When cool, add filling if you like. I used
Dulce de Leche
, thinned with enough water that the caramel didn't hold its shape anymore (maybe 2 Tbsp. water to 3/4 c. caramel). But use whatever you have or can make, such as homemade or jarred caramel sauce, unwrapped caramels melted with milk or water (try 1 Tbsp. milk/water for each 10 caramels). If you have a decorating bag with a tip, you can fill the bag with caramel, poke the tip down into the cupcake, and squeeze the bag until the cupcake swells with the filling. I have a bag, but didn't want to mess with it this time. The other way I fill cupcakes is by cutting out a cone-shaped section from the top of the cupcake. Lift it up, put a spoonful of filling in the hole, and replace the top of the cupcake. Frosting the cupcakes will hide those surgery marks. See the photos below.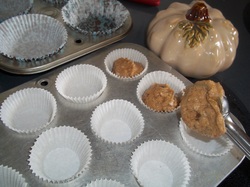 If you're making mini cupcakes, an easy, non-messy way to get batter in those little cups is with a small ice cream scoop. Use a regular-sized scoop for regular-sized cupcakes.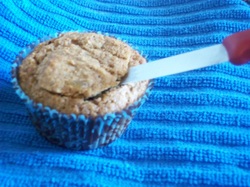 To fill a cupcake, run a knife around the top, with the blade angled so the tip is in the center, about an inch down.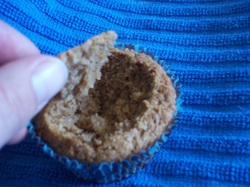 Lift up the top, and the cupcake is ready to fill! How much you add is up to you. Any less than 1/2 teaspoon just disappears into the cupcake, so use more than that. Add too much and it will spill over the top... so you'll figure out what you like pretty quickly. That said, I used what fit on a regular spoon, about 1 1/2 teaspoons. Put the top of the cupcake back on, then frost.