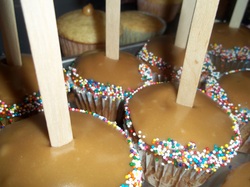 Aren't these so cute? I saw them in a magazine someplace last week; wish I could remember which one it was! Anyway, when there was a bake sale at school a couple days ago, it was the perfect excuse to make them!
You can make any kind of cupcake; I chose an applesauce cake recipe to go along with the look. These also got a caramel filling, topped with caramel frosting, rolled in sprinkles, and then poked with a clean craft stick.
Mix up a batch of cake batter, either from scratch, or using a yellow, white, or spice cake mix: to make it applesauce cake, replace
half
the oil or butter in the recipe with
twice as much
applesauce (you can replace all the oil, but the cupcakes will be a little bouncy- fat adds tenderness). For a 24-cupcake batch (same size as for a 9x13 pan full), also add 1 Tbsp. cinnamon. If you have them (or like them!), you can also add a total of 2 teaspoons of other spices: ground cloves (go easy here!), nutmeg, ginger, and/or cardamom. Bake as usual. When cool, fill them if you like. I used a sweetened condensed milk caramel (see
Making Tres Leches Cake
, second paragraph down), mixed with an equal amount of vanilla pudding to make it go further, since I was making 5 dozen. Use whatever you like- homemade or jarred caramel sauce, butterscotch pudding, sweetened cream cheese (2 Tbsp. sugar per 8 oz. cream cheese), cream cheese frosting, or whatever sounds good with apple or caramel.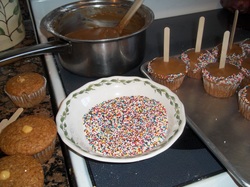 Make a batch of caramel frosting (see second page
here
); leave the pan over low heat to keep it warm and soft. If you want sprinkles on the edges, pour a layer about 1/4" deep in a wide bowl or on a plate.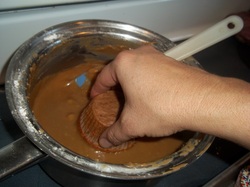 Dip the top of a cupcake in the warm caramel frosting.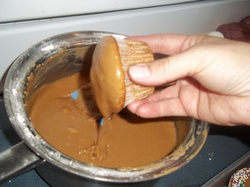 Let excess drip off for a couple seconds...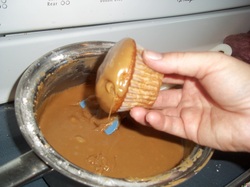 then twist the cupcake so the drips end up on the frosted top.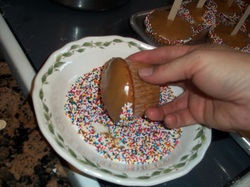 Put the cupcake on its side in the dish of sprinkles, then rotate it around to coat the edges all around.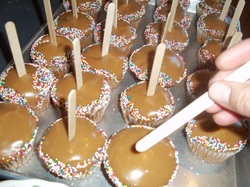 Set it on a tray for easy transporting, and insert a craft stick.


Done! (Wasn't that awesome?)