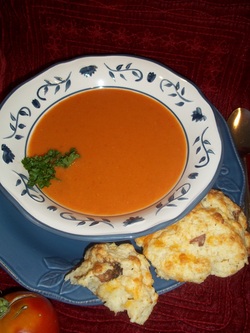 What better meal for a chilly, rainy, end-of-the-garden kind of day?
Picture warm, smooth, bright-flavored cream of tomato soup; tender, flavorful bacon and cheese biscuits with a crispy exterior.
The recipes are simple, and definitely beat store-bought for flavor and aroma! I'll be teaching a class on this, with variations, next week (see
Classes
), and the recipes and variations come from my cookbook,
The Chameleon Cook.


Cream of Tomato Soup

1 Tbsp. butter
1/2 medium onion
1/2 one carrot
1/2 one celery stalk
1-2 Tbsp. flour
1 lb. fresh, or 14 oz. can stewed, tomatoes
2 sprigs fresh parsley, 1 Tbsp. fresh basil, or 1 tsp. dried basil
1 c. chicken broth, or 1 c. water and 1 bouillon cube
1 c. evaporated milk, half-and-half, or cream
salt and pepper to taste
Cheesy Biscuits

1 cube butter, melted and cooled
2 c. flour
2 tsp. baking powder
1/2 tsp. baking soda
1/2 tsp. salt
1 tsp. sugar
1 cup cold buttermilk or sour milk
1/2 -1 cup shredded cheese
2 slices bacon, crumbled (optional)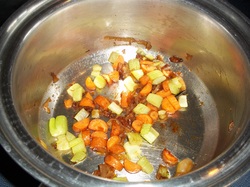 If you're making both, start by turning on your oven to 475 degrees Fahrenheit.

Chop half a medium onion, half a carrot (or 3-4 baby carrots), and half of one celery stalk. Cook over medium-high heat with 1 tablespoon butter or oil. Stir once in a while, until the vegetables are tender, about ten minutes (depending on the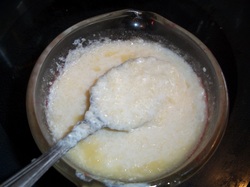 While the vegetables are cooking, start the biscuits. Melt one stick of butter; set it aside to cool. In a medium-sized mixing bowl, combine 2 cups flour, 2 tsp. baking powder, 1/2 tsp. baking soda, 1/2 tsp. salt, and 1 tsp. sugar.

Stir one cup of very cold (right out of the fridge) buttermilk or sour milk into the butter. As you stir, the butter should start to form clumps. This is good; it gives you the same effect as "cutting in" the butter with the flour, but much quicker. Pour all but about a tablespoon of it into the flour mixture, add 1/2 to 1 cup shredded cheese (the milder the cheese, the more you need), and a couple tablespoons cooked & crumbled bacon (optional). If you like, you can also add 1/8 tsp. cayenne pepper and/or 1/2 tsp. mustard to accent the cheese flavor. Stir just until combined.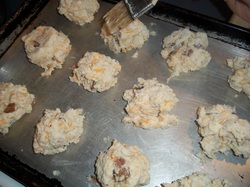 Put big spoonfuls on an ungreased cookie sheet. If you want a more structured biscuit shape, use a greased 1/4 c. measuring cup as a scoop.

Dip a pastry brush into that last little bit of milk/butter; dab some on the tops of all the biscuits. Put them into the oven to bake, then check on your vegetables. These will take about 12-14 minutes to cook- you want the tops crusty golden, and the insides just set.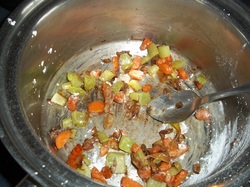 When the vegetables are tender, add 1-2 tablespoons of flour depending on how thick you want your soup. Cook and stir for one minute, to brown the flour a little.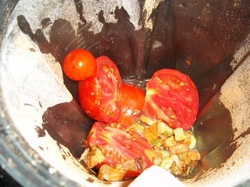 Put 1 pound of fresh tomatoes (or use one 14-oz. can of stewed tomatoes) in the blender or food processor. Add the vegetables, one cup of chicken broth (or water and bouillon), and blend until smooth.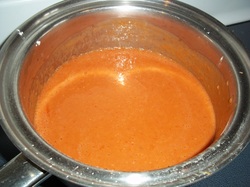 Pour back into the saucepan. To catch any little lumps or bits of tomato skin, set a fine-mesh sieve over the pan as you pour. (optional) Add a couple sprigs of fresh parsley, a tablespoon of fresh basil, or a tespoon of dried basil. Simmer for 10-20 minutes, to blend the flavors.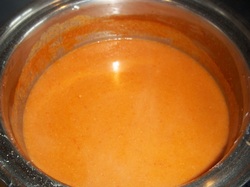 Stir in one cup of half-and-half, cream, or evaporated milk. Add salt and pepper to taste; about 1/2 tsp. salt and 1/4 tsp. pepper.
Serve hot, with those biscuits to dunk in it!

Now let that wind blow and rain patter against the windows!