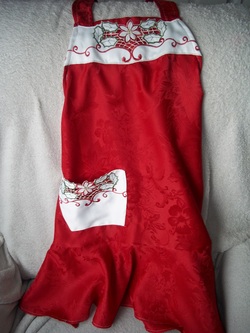 Maria VonTrapp had a great idea when she made those playclothes....
This apron is made from a damask tablecloth and an embroidered fabric placemat.
Since the tablecloth is designed to be spilled on, this should be a pretty stain-resistant apron!
Why wear aprons? You mean besides the fact that I always splash or spill when cooking? And that I feel more feminine and domestic when wearing a pretty one? Read through my favorite-ever story about aprons:
Apron Evangelism,
from Hillbilly Housewife.
Another "tablecloth apron"; since the tablecloth was labeled "harvest", it was on clearance for $2. The contrast trim and pocket are cut from a fabric napkin, also on clearance ($ .50).

Other cheap sources of fabric can include new or used tablecloths you already have or from thrift stores (cut around any stains), sheets, curtain panels. I've used all of these to make dresses before, too. Make sure the drape of the fabric is what you want on your finished product. A crisp sateen sheet will give a much different look than a silky damask tablecloth or satin sheet.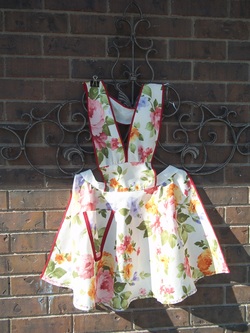 This one is a rough copy of a mid-1900's vintage apron. I was able to make 3 of these from one 60" round tablecloth ($5).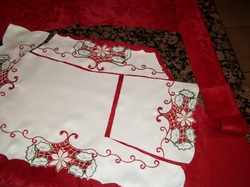 After cutting out the main apron body, cut pieces of the placemat to fit where you want them. Cut them out a little bigger than you need, to allow for seams.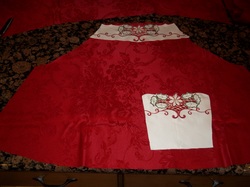 Iron under any edges that need to be hidden, pin in place, then stitch.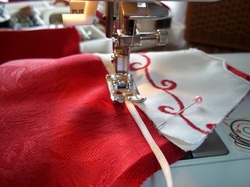 This placemat was two layers thick, and so was difficult to turn under for a clean edge. I found some 1/8" white ribbon, set that over the edge to hide the little frayed bits, then used a zigzag satin stitch the same width as the ribbon.


The red tablecloth was 60x120"; I can get 4-5 of these flounced aprons from it, or twice as many if they're straight and simple. And the placemat will be enough for trim and a pocket on two aprons. The green tablecloth was 60x72; it will only make two; the flounce is cut in a circle and takes up a lot of fabric.
For 50 free apron patterns, see
here
; it's also listed on my
Favorite Resources page
, 2/3 the way down, under "sewing".
Just think of the possibilities!