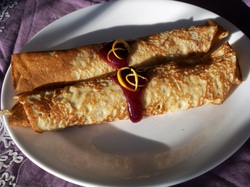 Once you learn the whole rotating-the-pan trick, crepes are EASY. It's actually the same batter as for German Pancakes. How's that for a two-for-one?
I recommend making the blueberry sauce the night before, or not trying to make it until after the crepes are done. You'll need your full attention on the crepe pans.

Crepes
3 eggs
1 c. milk
1 c. flour
butter or oil for the pan
Makes about 10-12 crepes, depending on size and thickness.

Put one or two skillets (6" or larger) on the stove; heat over high heat. I always use two at a time for this. Nonstick skillets are easiest to work with, since they are lightweight, and will require less- or no- butter. While they're heating, make the batter:

Bowl method: Beat the eggs with half the milk, stir in all the flour. Beat in remaining milk, until mostly smooth.

Blender or food processor method: add eggs, all of the milk, and all the flour. Process until smooth.
Cook the crepes (see below). Leftovers may be stored in a bag or airtight container in the refrigerator for up to a week, or in the freezer for months (as long as they don't get freezerburn).

Blueberry Sauce

1 Tbsp. cornstarch OR 2 Tbsp. flour
1/2 c. sugar or honey
1/4 c. water
2 c. fresh or frozen blueberries, divided
a pinch of salt
1-2 drops lemon or orange oil OR 1/8 tsp. lemon extract, OR 1 Tbsp. lemon juice, optional

In a microwaveable bowl or a small saucepan, stir together the cornstarch/flour and sugar or honey. Stir in the water and half of the blueberries. Bring to a boil, stirring often if you're using the stove. Once it boils and thickens, stir again, then mix in the remaining berries. Makes about two cups. Serve warm or cold. If it's not sweet enough for you, add 1Tbsp. sugar, taste it, and repeat as needed. If you want it thicker next time, double the cornstarch.

Keep any leftover covered tightly in the refrigerator. Leftovers can be thinned with water to make a pancake syrup, added to smoothies, stirred into plain yogurt to sweeten it, used as a topping for cake or cheesecake, as a filling for tarts or pies, or stirred in to muffin batter.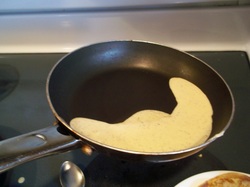 Add a teaspoon of oil to the pan, or a tablespoon if it's nonstick. Pick up a skillet with one hand, tip it to one side, and pour about 2-4 tablespoons of batter into the hot pan. Quickly rotate your wrist to make the batter spread in a thin layer completely around the pan. Put it back on the stove (and pour batter into the second pan, if you're using it).
When the edges curl up a little and/or turn brown, work a spatula underneath the crepe and flip it to the other side. This first side should take 30-60 seconds to cook.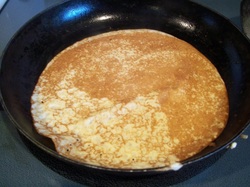 The second side is even faster; once it's completely set, with just a few golden spots, slide or flip it out of the pan onto a waiting plate. (see next photo)

You don't need to add butter to the pan every time, only if the crepes start sticking.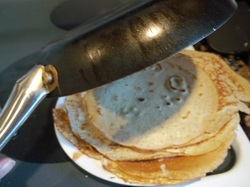 When all the batter has been cooked, cover with a clean kitchen towel to keep warm.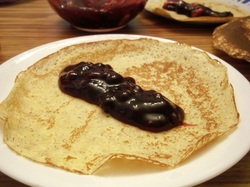 You can fill crepes with a thin layer of something strong (like jam, lemon curd, or cream cheese), or with about 1/4" cup of any filling.
Some ideas:
-Bananas (sliced, whole, cooked, or raw) with a little brown sugar or caramel
-Apples, sauteed or microwaved until soft- add brown sugar and cinnamon to taste
-Pie filling- blueberry, apple, cherry, apricot, or whatever else
-Pudding
For savory crepes, use the crepes are manicotti shells, tortillas, or egg roll wrappers. Fill with anything you'd put in those. Or make a sandwich wrap with them.