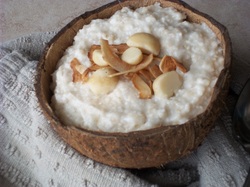 Oatmeal is a blank slate- nothing much to look at (or taste!) by itself, but it makes a great foundation!
I've been learning about coconut, and have decided it doesn't deserve the bad rap it sometimes gets. Yes, it's high in fat, but it seems to be the kind of fat our body recognizes and can build with. It's also very high in fiber. If you look at coconut flour, which is defatted, ground & dried coconut, it has 6 grams of fiber in a 2 Tbsp serving (shredded coconut has 1/2 to 1/3 that amount). Oat bran has only 2 grams of fiber in 2 Tbsp. All that fiber helps reduce the glycemic load of whatever you're eating, in a major way. This fiber is also a prebiotic, meaning it encourages good intestinal probiotic growth (good bacteria in your gut, necessary to break down food and assimilate vitamins and minerals).
Some people have severe allergies with tree nuts, and coconut is now classified by the FDA as a tree nut. So if you're allergic to almonds, does that mean you can't have coconut? -Most likely you'll be fine. Check with your doctor, but the few people who have been allergic to coconut are... just allergic to coconut, not other nuts. See
FoodAllergy.org
for more info.
Here's a breakfast that is filling, with a fun flavor. Adding the macadamias gives it an especially satisfying crunch. You can double, triple, or otherwise multiply this recipe.
Coconut-Lime Breakfast Oatmeal


1 c. coconut milk (water or milk is OK, too)
1/2 c. rolled oats
a dash of salt (1/16 tsp.)
1 tsp. lime or lemon juice, optional
2 Tbsp. shredded coconut
2 drops lime essential oil, or 1/2 tsp. lime zest
1/4 c. macadamia nuts, optional
Combine water, coconut cream concentrate, rolled oats, and the dash of salt. Bring to a boil; simmer and stir for two minutes. Remove from heat, then stir in juice, coconut, and essential oil or zest. Top with macadamia nuts. Drizzle with a little honey if you like, but I like it without.
If you use macaroon (fine flake) coconut, it will disappear into the oatmeal, leaving only flavor. Using sweetened shredded coconut will both sweeten it and add a little texture. My favorite is the shaved dried coconut; it adds both flavor and crunch.
Other flavor ideas:

Use pineapple, orange, or mango juice in place of part or all of the coconut milk or water.
Or add fresh, frozen, canned, or dried pieces of pineapple, mango, or papaya
I don't know why it is, but pineapple and macadamias go together exceptionally well. Coconut is a natural addition here.