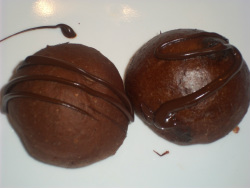 These are chocolatey, smooth, chewy buns or rolls. The bread itself is chocolate, and then there are bursts of flavor from little melty pockets of semisweet chocolate. These are gooooood.

So that you can see what a difference it makes, the bun on the left was not brushed with the cornstarch wash; the bun on the right was. It not only deepens color and intensifies shine, but also helps form a thin, tender, and chewy crust.
Chocolate-Chocolate Buns
1 c. semisweet chocolate chips,divided
½ tsp. oil
3/4 c. semisweet chocolate chips
1 1/3 c. milk
1 Tbsp. butter
3 to 3 ¼ c. flour (to start with)
1/4 c. cocoa
1 tsp. salt
1 pkg. RapidRise yeast * or 2 ½ tsp. instant yeast
1 egg
½ tsp. cornstarch
1/4 c. water

In a small zip-top baggie, combine ¼ c. chocolate chips with ½ tsp. oil; set aside. Put remaining ¾ c. chocolate chips in the freezer while you make the dough.

In a small pan, heat the milk and butter until very warm, about 120-130 degrees F. Meanwhile, in a medium bowl combine 2 c. flour, the cocoa, salt, and yeast. Pour in the warm milk mixture. Add the egg and beat until everything is smooth. Add 1 cup flour and knead 5 minutes or until satiny-smooth. Let rest 10 minutes. Stretch dough on counter in a rectangle about 8x16". Sprinkle on the 3/4 c. cold chocolate chips, roll up, and knead 1-2 minutes or until well dispersed. Divide dough into 12 equal pieces (or 24 pieces for smaller buns). Shape each into a smooth bun and place on a greased or parchment-lined cookie sheet. Cover and let rise til double, about 1 hr. 15 min. Meanwhile, combine cornstarch and water. Stir until smooth, then boil it until it thickens slightly. Cover and set aside.

Heat oven to 375 degrees. Just before baking, brush gently with the cornstarch wash. Bake for 15-17 minutes, or until bottoms are very lightly browned (baking longer will decrease the chocolate flavor). After removing from oven, brush again with cornstarch wash, remove to a cooling rack. When cool, melt the chocolate & oil (in the baggie), knead the bag to mix well. Snip a tiny corner off the baggie and drizzle chocolate over the buns. These buns are best eaten the first day.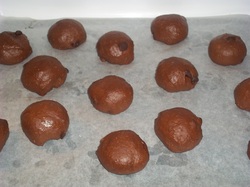 These are the newly-shaped buns just starting to rise. Yes, I covered them right after this shot; they rise much better when the surface can stay moist.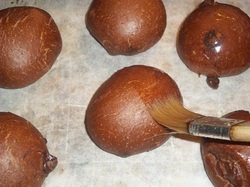 The buns are brushed gently with the cornstarch wash right before baking, then again as they come out. This photo is of the baked buns. The wash, and then the chocolate drizzle on them, turn something funny-looking into something mouthwateringly attractive!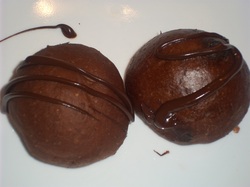 Don't you just want to make these now?