Here's a new, quick project: turn a T-shirt into a straight skirt; no sewing needed! It's called the "
30-second skirt
". I doubt anyone's first attempt will take that little time, but five minutes sounds like plenty! Click on the photo to go to the instructions. (remember, where it says "stitch" on the sleeves, you can ignore that, or use glue!)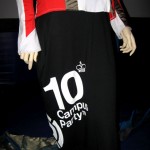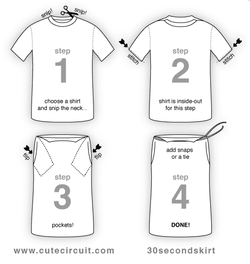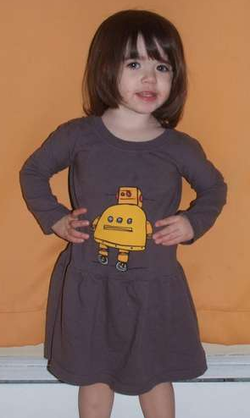 Notes for photos below- click on any photo to go to the instructions page:
Top left
: This one starts with a "proper-sized" shirt, you cut it off however high or low you want the waistline, and sew fabric onto the bottom. You don't need to limit yourself to plain-color shirts, either.
It's pretty much the same as the pattern for the pencil-drawing picture, to the left, but this one uses a pre-ruffled knit fabric. I spotted some of this at Hobby Lobby earlier this month, it's likely at most fabric stores. Or check at
RuffleFabric.com (pricy but lots of options).

Top middle
: Or leave the t-shirt long and add layers of ruffles yourself.
Top right
: This is the kind of T-shirt dress I remember my mom making for my little sisters: you cut a piece of fabric about twice as wide as the bottom of the shirt, hem it along the bottom, gather it at the top, and sew it to the bottom of the shirt. If you're nervous about gathering or just want another option, you could cut a circle skirt.
Bottom
: make it a patchwork skirt, with a big bow in back.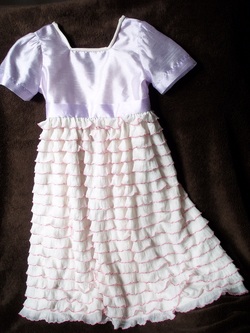 After seeing the ruffled-skirt dress above, I decided that was just the thing for my daughter needing a Sunday dress. I never did find a t-shirt I liked for the project, though. Instead, I just made a dress bodice, and then gathered a full width (selvage to selvage) of the ruffle fabric for the skirt. It only required 19" of length for this size 4 dress.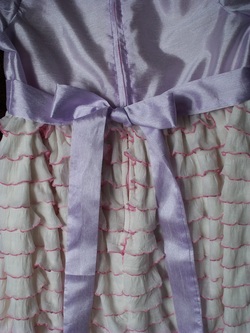 I added a sewn-to-the-front sash, as well.