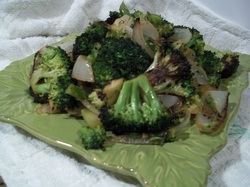 What are you going to have for dinner on Valentine's Day?

How about broccoli? No, really..

If you've never had roasted broccoli, you're in for a great surprise. Some of my kids like regular cooked broccoli, and some don't, but ALL of them like it when roasted.

The high heat, cooking it close to the bottom heat, along with a touch of sugar, help bring out the caramelized sweetness that otherwise is locked away, far from my tastebuds!
The photo shows the Cuban version, below.

Roasted Broccoli

1 ½ lbs. trimmed broccoli
2 Tbsp. oil
½ tsp. salt
1/8-1/4 tsp. pepper
¼ tsp. sugar (honey works as well)

Preheat oven to 475 degrees (no, not 375!), put the oven rack in the lowest spot. Cut the broccoli into florets. Save the stems; peel off the tough outer layer, and cut about ¼" thick. Drizzle with oil, sprinkle with salt, pepper, and sugar. Toss to coat. Spread on a cookie sheet and put it on the lowest rack. Cook for 14-18 minutes, until some parts are deeply browned.

This basic recipe can be made a thousand different ways, using different vegetables, combinations, and/or spices. Here are a few ideas, still using broccoli.

Cuban Broccoli:
Use 1 lb. broccoli and 2 onions, cut into 8 wedges each.
Into the oil, mix 2 drops lime essential oil, or 1 tsp. lime zest. Use the same amount of salt, pepper, and sugar, but also add ½ tsp. cumin. Roast the same as above; when done, toss with 1 Tbsp. lime juice.

Italian Broccoli:
Before roasting, add ¼ c. pine nuts, 4 medium cloves garlic, sliced in half. When roasted, sprinkle with ¼ c. Parmesan cheese, and fresh basil leaves, chopped.

Broccoli, Sausage, & Pasta
On that lowest rack, at 475, roast 4 oz. Italian sausage for 5-6 minutes, until sizzling. Add 1 lb. broccoli, cut smaller, 4-6 cloves garlic, sliced, and 1 or 2 red bell peppers. Toss and roast. Meanwhile, bring 1 lb. pasta to a boil; cook til al dente, then drain. Stir in the roasted mixture and serve immediately.