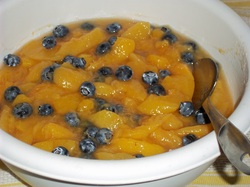 A little of this, and a little of that... to make a brightly flavored salad!

There are a couple ways to make this, depending on what you have on hand.
2 (29-oz) cans of sliced or cubed peaches, preferably in light syrup or juice
1/4 c. instant clear jel (like Ultra Gel)*
6-8 drops lemon essential oil *
6 oz. (1 cup) fresh blueberries

Combine the juice or syrup from the cans, clear jel, and essential oil. Whisk together until slightly thickened- it will thicken more within the next 5-10 minutes. Stir in peaches and blueberries. Flavor improves the longer it sits, but it's good right away, too.

Makes 8-10 servings.

*If you don't have instant clear jel on hand- first, I recommend it! You don't have to heat it to get it to thicken food. I use it in sauces, fruit glazes, pie fillings, puddings, salad dressings, jam, cold soups (you can use it in hot soups, but flour and cornstarch are cheaper), frostings, and more- you can substitute 1/4 c. flour instead, or 2 Tbsp. cornstarch. Whisk it in to the juice, then bring the mixture to a boil, whisking often. Let cool a few minutes so it doesn't cook the blueberries.

Another option is to use a 4-serving-size package of instant lemon pudding in place of the clear jel and lemon oil. The pudding is essentially instant clear jel + sugar + flavors and colors.

This is good with all kinds of fruit. Try it with apple, orange sections, mango, banana, pineapple, raspberry, strawberry, apricot...
Frozen fruit works as well, but frozen blueberries will release their juices and turn the whole salad purple. Just so you know.