Beans and sausage have probably been around since sausage was first invented. Take some bland beans, add flavorful ingredients, and -presto- a nearly-one-dish-meal. We ate ours with homemade bread and a fruit smoothie.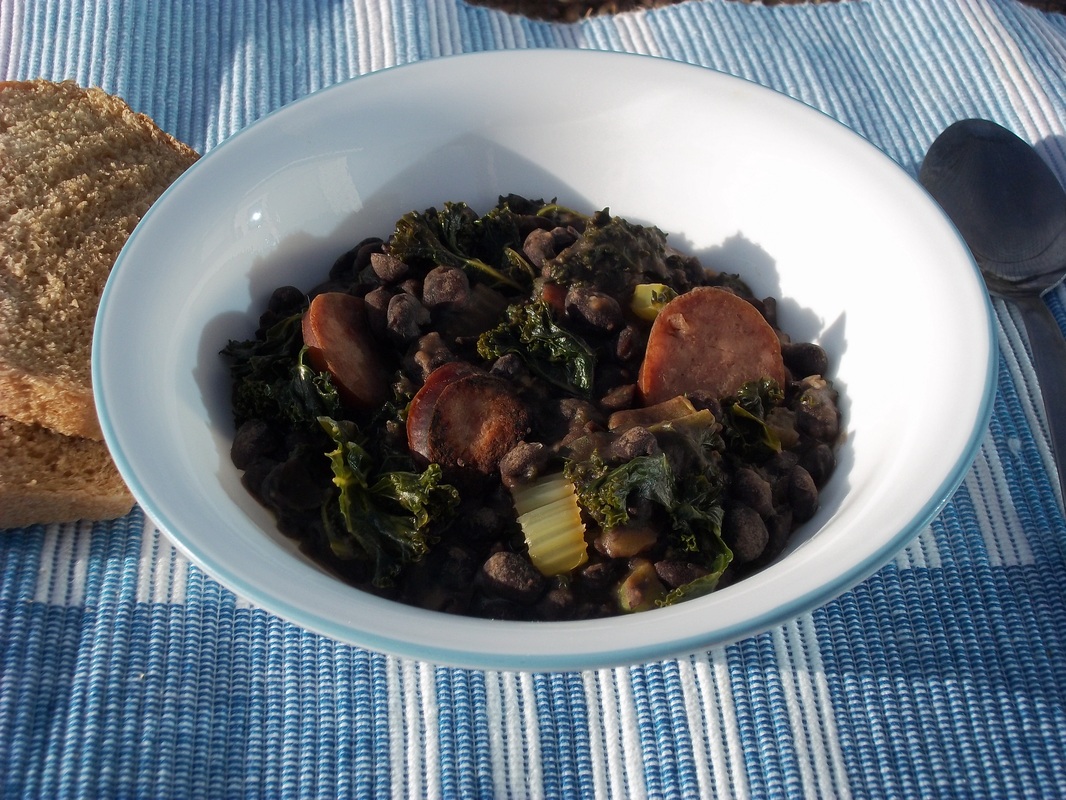 You can use any kind of beans you like, and any kind of sausage or similar meat. I used kielbasa because that's what was cheap this time. Sometimes I use hotdogs. Or link sausage. Or I shape bulk sausage into meatballs. Ham Spam, or bacon would also work; the point is to add something savory and meaty.
You can leave out the kale if you prefer; I only added it because it was calling to me from the fridge (so it wouldn't die lonely in the vegetable crisper). It also added to the nutritional content; my mom taught me the budget trick of using half as much meat and twice as many vegetables as most recipes call for. The onions and celery are pretty important for flavor, but if you don't like them, fine, leave them out. Add something you do like. Carrots or peppers would be good.
I used onion powder because some of my kids think they don't like onions. It's really the texture they revolt against; if I use onion powder or puree the onions, nobody notices them. The tomato and chicken bouillon enhance the meaty flavor.

This makes a big batch; you can freeze some for later!

Black Beans and Sausage

1 lb. black beans, or 3 14-oz. cans
2 medium onions, diced, or 1/3 c. onion powder or 2/3 c. dried minced onion
1 lb. sausage (or hotdogs), cut in coins
2-3 stalks celery, chopped
4 cloves garlic, minced, or 1-2 tsp. garlic powder
1 bunch kale, chopped
1 Tbsp. chicken bouillon, or 3 cubes, or one 14-oz. can chicken broth
1 Tbsp. tomato powder, or use 1 Tbsp. tomato paste or 2 Tbsp. tomato sauce
2-4 tiny drops thyme essential oil, or 1 tsp. powdered thyme, or 1-2 Tbsp. fresh leaves

Salt and pepper to taste

Serves 8-10

If starting with dry beans, sort through to find any bits of rock or dirt, rinse, then put in a large pot with 2 quarts of water and the onions. Bring to a boil, then cover and simmer for 4 hours. I used a pressure cooker (a Kuhn Rikon, it's quick!) and needed only 1 ½ quarts water, cooked on high pressure for 25 minutes. Drain and reserve water. If using canned beans, also drain and reserve.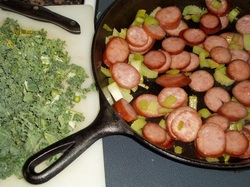 In a 12" skillet, cook sausage and celery over medium-high heat until partly browned. This really deepens the meat's flavor. In case you like science-type stuff, this is because of the
Maillard Reaction
-
simplified, it's the combination of amino acids (proteins) reacting under heat with the sugars (carbohydrates) to form completely new flavor compounds. Anyway, yeah, you want to brown the sausage, even if it IS precooked.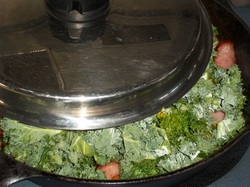 Add garlic and stir 30 seconds, then put the kale on top, cover, and reduce heat to medium. Check after about 5 minutes to see if you need to add a little liquid. If so, use the bean water. Cook until kale is tender, about 10 minutes.


Add the meat and vegetables to the bean pot. Stir in chicken bouillon or broth, tomato powder, thyme, 1 tsp. salt, ¼ - ½ tsp. pepper. Taste and add more salt and pepper if needed. Heat through if it's not warm enough. The flavor will be better after sitting covered for 20-30 minutes. If it's too thick, add more of the bean water.