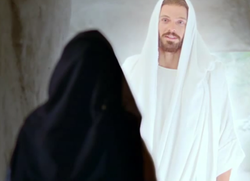 Click on the photo to watch the 'He Is Risen' Bible video.
There's a whole
Life of Christ
series available, as well.
I know that Jesus Christ lived, that he atoned for our sins, that he voluntarily gave up his own life for us, and that he was resurrected and lives today. I'm grateful for this. I know he will return at his Second Coming, and I try to live by his example of love for God and all others. I know this brings happiness; the better I am at following Him, the happier and more fulfilling my life is.

May you feel His love for you as we celebrate Resurrection Sunday.