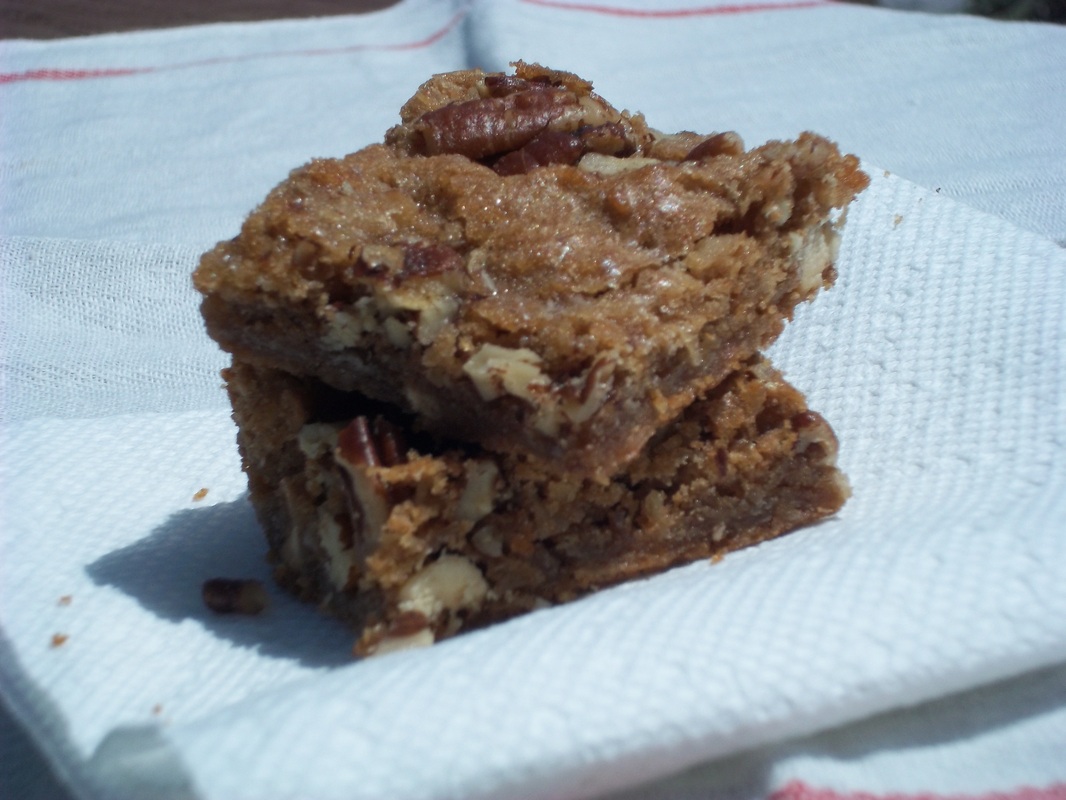 The bar cookie, not the hair...
Blond
ies are similar to
brown
ies, only without the chocolate in the batter. This recipe makes a soft, chewy, dense, buttery version.
The recipe came from Cook's Illustrated (same company as Cooks' Country and America's Test Kitchen), though I've tweaked it a little. I LOVE their stuff; each recipe has a mini cooking lesson with it, as they discuss what they were trying to make, what happened with each of the experiments they made, and what made the difference in the PERFECT batch. If you want to see a little of the background information on this recipe,
here's a description
.
BLONDIES


1 1/2 c. light brown sugar
1 1/2 sticks (12 Tbsp.) butter, melted and cooled
2 large eggs
4 tsp. vanilla (yes, really that much)
1 1/2 c. flour
1 tsp. baking powder
1/4 tsp. salt (1/2 tsp. if using unsalted butter)
1/2 c. EACH semisweet and white chocolate chips (I used 1 c. white)
1 c. pecans, chopped coarse
Preheat oven to 350 degrees. Butter a 9x13 pan. (I used an 11x15 for the batch that had nuts, and they weren't too thin.) Stir the brown sugar and butter together, then whisk in eggs and vanilla. Stir in the flour, baking powder, and salt. Scrape into the pan and sprinkle with the nuts. Bake 22-25 minutes or until a toothpick stuck in the center comes out with just a few crumbs. Cool 2 hours.
CONGO BARS
(my family calls these "Hay and Gravel Bars" because of the coconut and nuts)
Add 1 1/2 c. toasted coconut when you stir in the chips.