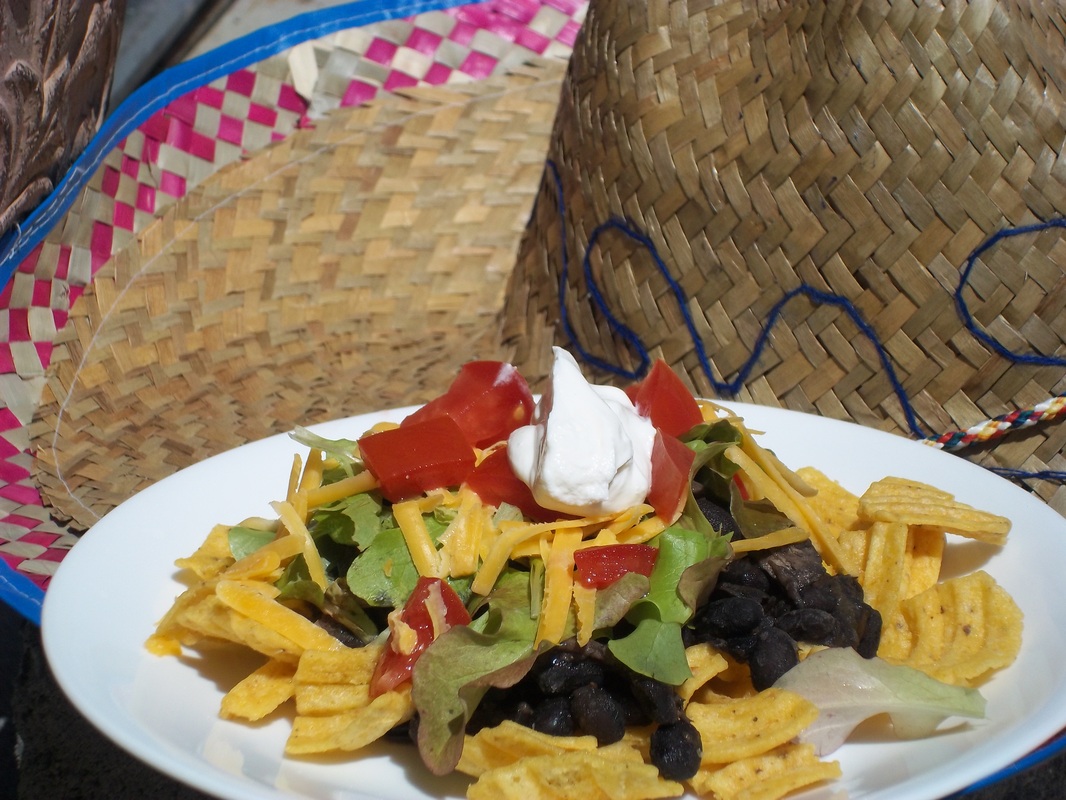 Years ago a college friend gave me a cookbook her family had put together. Though I haven't tried all the recipes in it, I'm inclined to say there's not a bad one in the bunch- everything I've tried has been fabulous. Even the strange-sounding recipe for "Vinegar Dumplings" was amazing. I may need to post that one later for you!

This recipe is from that cookbook. Apparently 'Chalupa' is a misnomer, to be authentic you'd use thin, small, fried corn tortilla 'boats'. But this tastes really similar and is simpler.
This batch is big; feel free to cut it in half. The bean/meat mixture freezes well, though, so maybe make the whole batch and have some on hand in the freezer for a quick meal!

Chalupas

2 lb. boneless pork roast *
1 lb. pinto beans, sorted and rinsed *
1 Tbsp. chili powder
1 small can green chilies
1 clove garlic, minced
1 1/2 tsp. cumin
1/2 tsp. oregano
1 1/2 tsp. salt
* I used beef roast and black beans

Toppings:
corn chips
shredded cheese
chopped onion
diced tomatoes
sliced avocado
salsa

(Start making this about 6-7 hours before you want to eat. Or see 'Faster Chalupas' below.) Preheat oven to 400 degrees. Put all ingredients in a Dutch oven or roaster; add enough water to cover. Bake, covered, for one hour, then reduce to 275 degrees. Cook another 4-5 hours. Add more water if the beans aren't all the way covered by it.

Remove pork, cool and shred. Meanwhile, cook the bean mixture with the lid off for 30-60 minutes or until thick. Put shredded meat back into bean mixture and heat.

Serve on a bed of crisp corn chips and top with shredded cheese, lettuce, onion, tomatoes, avocadoes, and salsa.

FASTER CHALUPAS:

#1: use a pressure cooker. Mine took about 30 minutes under high pressure in a Kuhn Rikon. Plan on 1 hour instead if you have a regular pressure cooker.

OR #2: use leftover roast and 3 (15 oz.) cans of beans, undrained. Add all seasonings except for the salt, combine and simmer for at least 15 minutes to blend the flavors.