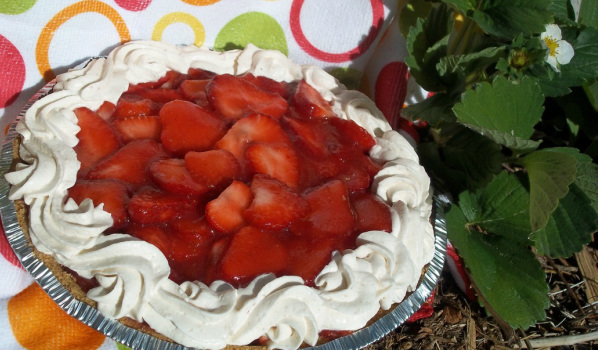 There is NOTHING like fresh strawberries and whipped cream!

If you start with a premade crust, you can make this pie in about 15 minutes. The recipe is sized to fit in an 8-inch crust. Almost all of the time here is hulling and slicing the berries. The sauce is a cinch.


There's also a simple variation for non-stringy Strawberry Rhubarb Pie!

Ingredients:
1 8-inch pie shell (for some good recipes, see Crash Course in Pies)
1 lb. ripe strawberries, washed
1/2 c. sugar
2 Tbsp. Instant Clear Jel*
1 drop orange essential oil, OR use 1 Tbsp. orange juice OR 1/16 tsp. orange extract

Topping: (optional but YUMMY!)
2 Tbsp. sugar
2 tsp. Instant Clear Jel*
1 cup whipping cream
1 tsp. vanilla

For the filling: Hull the berries (remove the green leaves). Put a small handful of the ripest berries in a blender; puree. Add a little water if needed to make 1/2 cup puree. Add the sugar, Clear Jel, and orange oil; blend about ten seconds. (If you don't have a blender, you can mash the berries by hand. Or you can use all water and no berries, but the flavor and color of your pie will not be as good.) Slice the rest of the berries and mix it with the strawberry sauce. Pour into the pie shell. Store in the fridge until time to serve.

For the topping: in a medium bowl stir together sugar and Clear Jel. Add the whipping cream and vanilla; beat to stiff peaks. Spread or pipe onto the pie.

*The Instant Clear Jel thickens the sauce and keeps the whipped cream from going flat. If you can't find it for the sauce, substitute 1 Tbsp. cornstarch OR 2 Tbsp. flour, then bring the sauce to a boil to thicken it. Cool before adding sliced berries. For the problem with the whipped cream, eat the pie quickly! Actually, there are other things that you can use (yes, cornstarch works, but who wants to cook then chill cream again?), a couple include:
-1 tsp. unflavored gelatin softened in 1 Tbsp. water then melted and whipped in to the cream,
-or 1/2 package instant vanilla pudding powder (omit the 2 Tbsp. sugar)
-or whip with 4 oz. softened cream cheese and an extra tablespoon of sugar

Strawberry-Rhubarb Pie: instead of using the handful of berries for the sauce, slice one stalk of rhubarb. Cook it with the sugar, then puree with Clear Jel and orange oil. If you want the pie with chunks of rhubarb, cook 2 stalks instead, use half for the sauce and half stirred into the filling.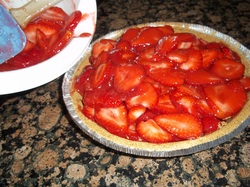 Here I used a premade crust (found it at the dollar store!)- but I've got to admit the homemade ones taste better. Our favorite was a crumb crust made with butter and then baked, this brought out a butterscotch flavor. If you don't want to bake, just freeze it for ten minutes. The crumb crust does fall apart when you serve the pie; if an intact slice is important to you, use a rolled-out crust.