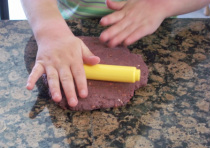 I hate playdough. It gets stuck in the carpet, smells funny, dries out, and gets thrown away. My children, however, love playdough.
Here's a way to let them have fun with playdough, have it over and GONE in one session, and not waste anything! Whatever the kids roll out gets baked- as crackers!
Other things you can use as playdough:
yeast dough
,
homemade Tootsie Rolls
,
Peanut Butter Balls
(all recipes are also in
my cookbook
)
Edible Playdough

1/3 c. water
1/3 c. quick oats (or one envelope instant oatmeal and an extra 1 to 1 1/2 Tbsp. water)
1/2 c. flour
pinch of salt
1 tsp. baking powder, optional
2-6 drops food color, optional

Bring the water to a boil, add oats. Let sit a couple minutes to plump and cool slightly. If adding color, it's easiest to do right before adding the flour. Stir in flour, salt, and baking powder (a pinch of sugar is always popular; omit if using sweetened instant oatmeal). Stir until you've worked in at least half of the flour, then dump everything onto the counter and knead until smooth. Mixing in the flour while dough is warm or hot helps it become more elastic. (So does cooking the oats.)

If you have a toaster oven, it's the perfect size to bake in. Oil or spray a cookie sheet, and bake at 400 degrees until the crackers are crisp. This may be anywhere from 10-25 minutes, depending on how thick they are. (Hint- the thinner, the better they'll be!) Anything thicker than about 1/4 " will never be crisp, just hard. Teething biscuits. Entertaining to chew on.

The baking powder is not necessary, but it helps lighten the crunch of the baked product. This is nice because those little fingers rarely roll out the dough evenly.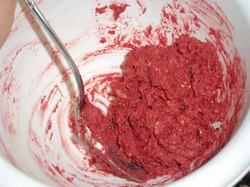 This color is from adding about 1 1/2 tsp. dried beet powder when cooking the oats. After this, my daughter said she wanted purple- so I added 3 drops blue food color.


I make beet powder when my garden beets become too big and a little tough to eat normally. To make the powder, slice the beets thinly, dehydrate until completely dry, then put them in a blender or food processor. Grind to a powder. Store in an airtight container, like a jar with a screw-on lid. Best nutrition within one year.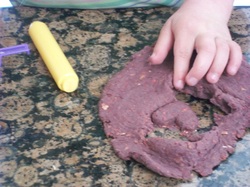 The ideal thickness is about 1/8" thick, but... it's for fun, with a bonus snack at the end! My kids love that they're making actual food.