Have you ever made tartar sauce? It's simple, delicious, and has only the ingredients YOU put in it! (No questionable preservatives, etc.)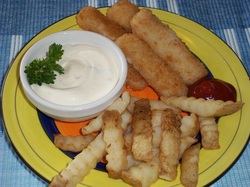 Homemade Tartar Sauce

½ c. mayonnaise
1 T. chopped pickles (or use pickle relish)
1 T. minced onion
1 T. lemon juice
salt & pepper to taste

This is best if chilled at least 30 minutes, but still good if eaten right away. Makes about 2/3 cup.



Now, how often do you really use all of that tartar sauce? You can stir it with a couple boiled and cubed potatoes, to make it into potato salad, or try this.....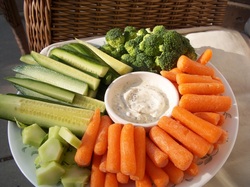 Second-Day Tartar Sauce- Ranch Dip!
To a half batch of tartar sauce (about 1/3 cup), add
1/4 tsp. dill weed
1/4 tsp. parsley
1/4 tsp.
onion powder (recipe here)

or
1 ½ tsp. minced chives
a dash of garlic powder, opt.
Voila!
There were NO leftovers this time. :D