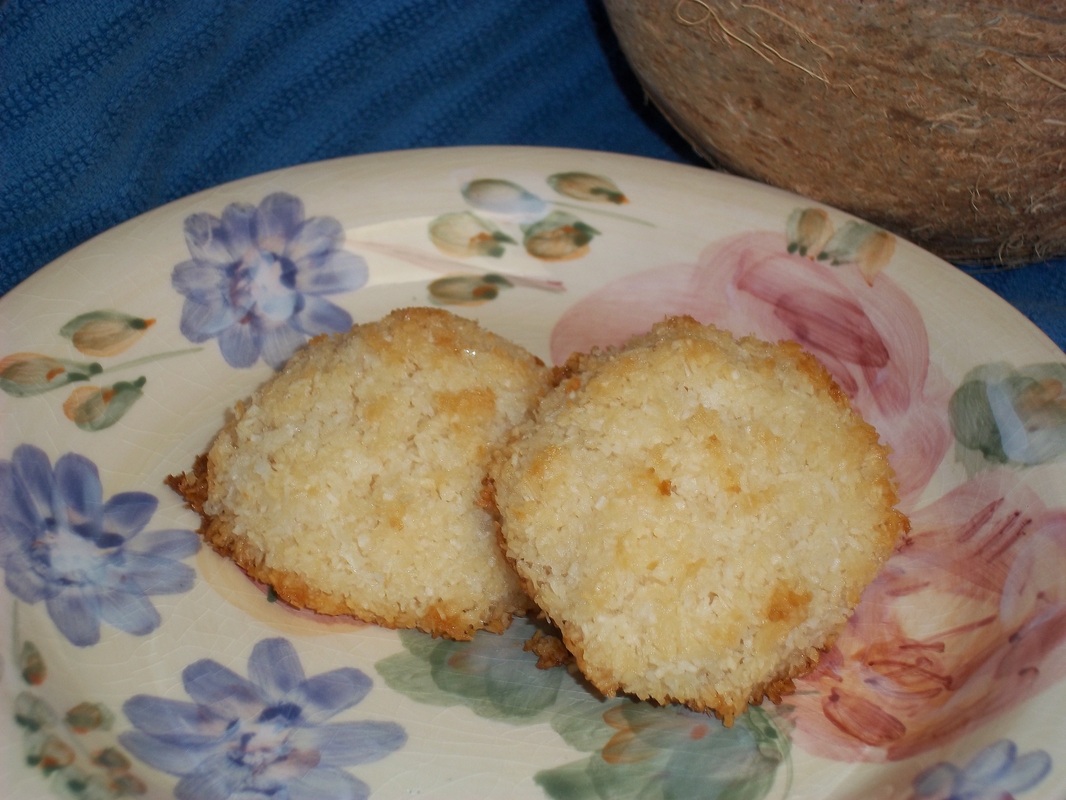 A little while ago I went to a local specialty store,
Against The Grain
, which is specifically for those who can't have wheat or gluten, to pick up some
Expandex
. While there, I saw some individually wrapped, big mound-looking macaroons. They were 2 ounces apiece, about 3" across, and cost $1.29. The ONLY ingredients on the list were coconut, egg whites, and honey. It sounded healthy and yummy, so I bought one to figure out how to make them. They are not the light, crunchy, meringue-type macaroons, but instead a dense, more lightly sweet confection.
The coconut provides a high amount of fiber (75% of the carbs in coconut are fiber!- coconut fiber has been shown to control blood sugar especially well), as well as some healthy fats (medium-chain fatty acids, including lauric acid). Read an article
here
, or a website on coconut research
here
.
The egg white helps bind it, and contributes protein.
The honey, of course, sweetens it, as well as helping moisten and bind.
Here's what I ended up with after a couple experiments:
Three-Ingredient Macaroons

2 egg whites
1/2 c. honey
3 cups unsweetened, fine-flake coconut
Preheat the oven to 350 degrees. Line a baking sheet with parchment, or grease it. Beat the egg whites until just foamy, then whisk in the honey. Stir in the coconut until well mixed. If it won't hold its shape yet, let it sit for 15-30 minutes to let the moisture absorb into the coconut.
Use 1/4 cup packed (1.7 oz prebaked weight) for 1 1/2 oz macaroons, or a scant 1/3 c. scoop for 2 oz (2.2 oz. prebaked weight), bake 17-18 minutes, until just turning brown on the tops. Let cookies cool on the baking sheet for 5-10 minutes before you take them off; otherwise they'll fall apart.
This makes 12 (1 1/2 ounce) macaroons, or 9-10 (2 ounce) ones.