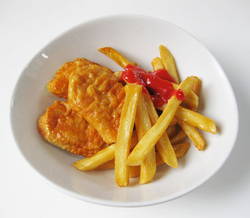 In the last few years, we've all heard that it's more inexpensive to eat high-calorie, nutrient-sparse foods. Are we then doomed to a life of either nasty nutrition or perpetual poverty because of our ballooning food budget?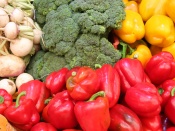 No way! The whole premise turns out to not really be true.


But then, those of you who cook your own food probably took the earlier studies with a grain of salt.
Fresh and whole foods are cheaper especially if eating from scratch... whole grains and legumes are especially inexpensive per serving (you know, that stuff that stores long-term really well!).
The original studies, we now learn, were comparing
price per calorie
in healthy vs. unhealthy foods.
Now, if you're comparing a fresh apple to a side order of fries, it looks something like this:
1 medium apple, about 5 ounces (141g) = about 80 calories at $1.50/lb, this costs $ .47 (if you buy them when they're on sale for $1/lb, then it's $ .31)
1 medium order of McDonald's fries, about 5 ounces (147 g) = 453 calories, in my city it costs $1.49
Both weigh approximately the same. You'll feel about as full with each one; they both fill the same amount of space in your stomach. According to the old numbers, though, the fries are much
cheaper
because $1.49 divided by 453 calories gets you 3 calories per penny. The apple, at $ .47 for 80 calories, comes out at 1.7 calories per penny.
This would matter in a country where every calorie is precious. Our problem here, though is the reverse. Most of us eat too many calories, and being full with fewer calories is a helpful thing.
The price difference gets worse, too. Here in Utah, sales tax on food is 3%. Sales tax on food from a restaurant, however, is 8%. That means you're paying
one to two cents
to the government when you buy the apple, and
twelve cents
when buying those French fries. (Maybe that's where the money came from to fund that first study saying fast food was cheaper?!)
So is healthy food always cheaper than fast food? No, not always. Often. It depends on what you buy. (like
Dave Ramsey
says, eat "beans and rice; rice and beans" for those trying to live very frugally.)
But your grocery budget already told you that.
************************************************
Click on the link below to read the article that sparked this blog entry:
http://www.foodnavigator-usa.com/Market/Are-healthy-foods-really-more-expensive-Not-necessarily-say-USDA-researchers