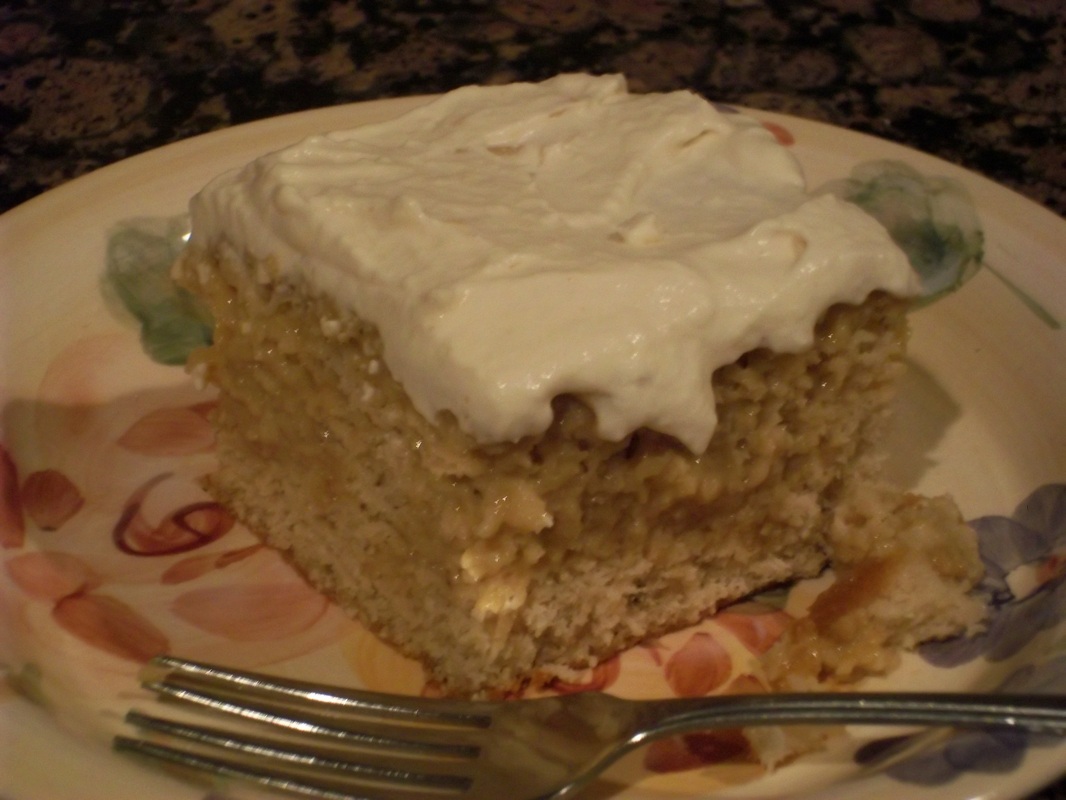 With a name like "Tres Leches" ("Three Milks"), you're not going to get a truly authentic recipe without using dairy, but this one has the creamy moistness of the real deal. If you can have dairy products, use the 'tres leches' mixture from my other, traditional,
Tres Leches Cake
.
Make the 'tres leches' mixture:
1 14-oz can coconut cream (NOT cream of coconut), divided
3/4 c. sugar
1 1/2 Tbsp. coconut oil, or dairy-free margarine
1 tsp. vanilla
1 14-oz can coconut milk
Combine 2/3 c. of the coconut cream, sugar, and oil/margarine. Boil until thickened and darker; it took about 8 minutes in my microwave. Add the vanilla and remainder of the coconut cream. Set aside to cool.
Make the
Vanilla Cake
from Living Without magazine. I made it without eggs, as well (more allergies); instructions for doing that are included below the recipe. (However, I didn't have egg replacer, so I replaced the 4 eggs with 1/2 c. applesauce, 2 tsp. baking powder, and 3 Tbsp. water.)
When the cake is done baking, let it cool for ten minutes, then poke holes with a skewer, every inch all over the top. Pour the coconut cream mixture over the top. Refrigerate at least 3 hours; overnight is better.
Whipped (coconut) cream topping

1 14-oz can coconut cream, well chilled
3 Tbsp. sugar, honey, or corn syrup
2 tsp. vanilla
Whip all together until fluffy, then spread on top of cake. Using the honey or corn syrup will help stabilize the cream so it doesn't go flat as quickly.
To get REALLY stable whipped cream, soften 1 tsp. unflavored gelatin in 1 Tbsp. water, then dissolve (12 seconds in microwave works). Let cool slightly before pouring slowly into partially-whipped cream.