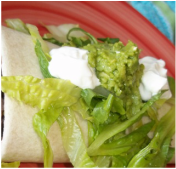 Would you like some super-easy guacamole to put on top of your
cheap homemade burritos
? Here's a recipe you can make with your eyes closed!
Don't skip using the citrus juice or vinegar; the acidity prevents the avocado from turning brown (oxidation).
Simplest Guacamole

1 avocado
1 Tbsp. lime or lemon juice,
OR 1 Tbsp. vinegar and 1 drop lime or lemon essential oil
Salt to taste
chili powder to taste (optional)

Mash the avocado with the juice. Sprinkle with salt.

You can jazz this up many ways: other flavor options are to stir in chopped or pureed tomato or onion, a little salsa, mixed in diced jalapenos, chopped cilantro, or some sour cream.

This can also be made into an easy salad dressing: increase juice to 2 Tbsp and stir in 3 Tbsp. olive oil. To make it even creamier- and lighter-, puree this along with a medium-sized cucumber. A big handful of cilantro added before blending provides a nice flavor boost. If the dressing is too thick, add more lime/lemon juice and oil.