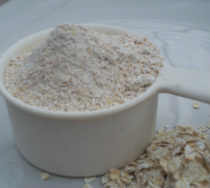 I buy rolled oats by the 25- or 50-pound bag when they're on sale; they're MUCH cheaper that way, and yes, I do actually use that many. Eventually.
Last week I bought 50 pounds of oats for $24, which made them $ .48/lb.
They got divided into food-storage buckets- a 5-gallon bucket will only fit about 15 pounds of oats, labeled, put in a cool & dark place in my house (under beds and in closets can be good). Then I will refill a container in the kitchen whenever needed.
They're great for cooking at breakfast, of course, and homemade granola (see recipe in the free "
Starter Cookbook
" or in
The Chameleon Cook
), in
apple crisp topping
(also in both books)... but what else?
Start with rolled oats or quick-cooking oats. Put about 2 cups of these in a blender. Cover and run on high for about a minute.
Ta-da! Oat flour. This is great for either the gluten-free cook who can tolerate oats*, or for the rest of us who just like moist and tender baked goods.
Now, what can you do with it?
Use it in
yeast bread
- about 1/4 cup of this to replace the same amount of wheat flour per each loaf in the recipe. Oats help make bread moist. One really delicious version is to not only use the oats, but substitute orange juice for half of the water.
Quick breads- including
pancakes, waffles, biscuits, muffins
, and more. Oats don't have any gluten, so your finished food will be more tender, less tough. Just don't substitute more than half of the total amount of flour. For example, in a muffin recipe calling for 2 cups flour, you could use 1 cup of oat flour and one cup of regular flour, or 1/2 cup oat flour and 1 1/2 cups regular flour. Adding the oat flour will make your regular flour act more like pastry flour.
Mix into
cakes and cookies
for the same reason as for quick breads, keep the same kind of ratios in mind for best results. If you want to get the very best results, WEIGH out your flour; the oat flour is a little fluffier or less dense than wheat flour. You would use just over 5 ounces oat flour for each cup of regular flour you're substituting for.
Use it for
'instant oatmeal'
(scroll down to bottom of page) for breakfasts: the pieces are so small, they absorb the water super-fast! in Add it to soups or stews to thicken them. You can do the same with quick oats, but the oat flour soaks in and disappears much faster!

*Most gluten-intolerant people can handle oats just fine, and others can't. It seems to actually depend on the variety of oat- there's an excellent article on this at http://ultimateglutenfree.com/2011/06/getting-closer-to-gluten-free-oats/ Buying "Gluten-Free" oats gives you an extra layer of protection; I've seen, myself, batches of oats that had a few wheat kernals mixed in. The processing machines can't tell the difference, and sometimes a little wheat grows- as a weed- in oat fields!

My sister, who has to cook gluten-free all the time, has a favorite easy, hearty-wholegrain flour blend: equal parts oat flour and lentil flour. Lentils grind fairly easily in a blender, too. See here for her post on the flours she uses most often.