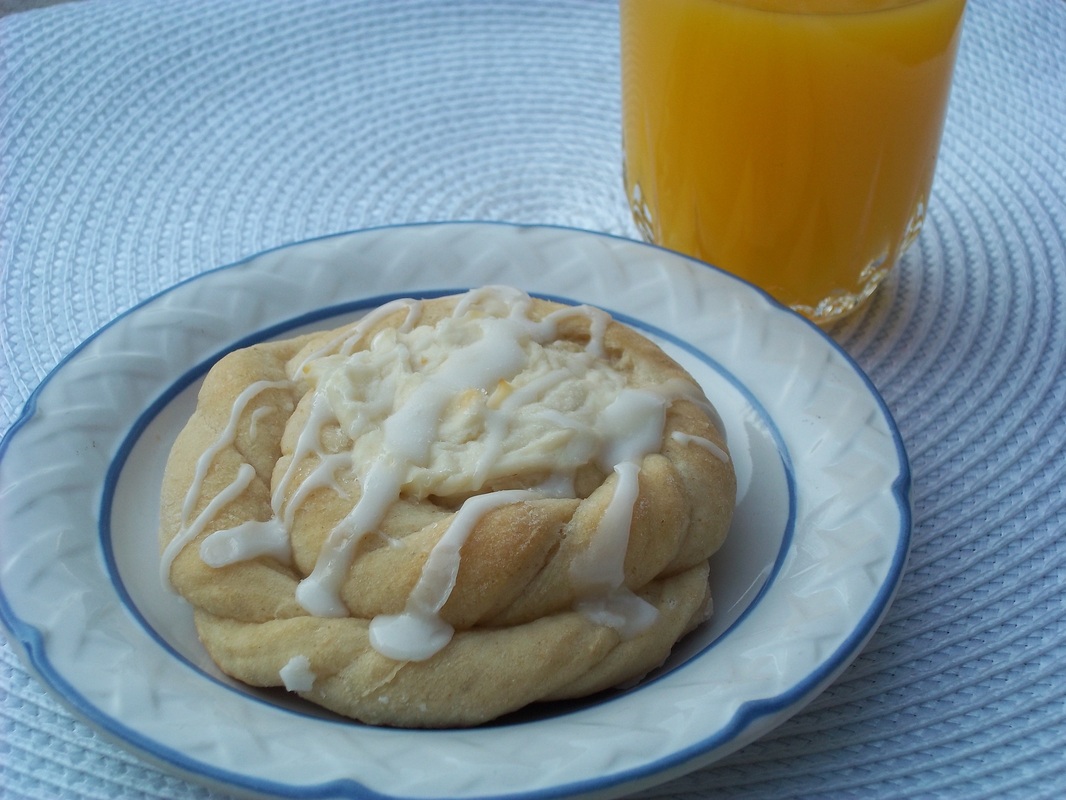 This makes for a very special breakfast, one of my husband's very favorites. It's fun to serve these when I have overnight guests, or sometimes just to surprise my family.
I love the flavor of fresh-ground wheat, so I usually make these using 1 cup whole wheat flour and 1 cup all-purpose flour.
If you prefer a fruit filling, use 1-2 Tbsp. jam, jelly, or pie filling instead of (or in addition to!) the cream cheese.
You'll need to plan ahead- mix these up in the evening (10 minutes), stick the dough in the fridge overnight, then shape, quick-rise, and bake in the morning (45-60 minutes).

Easy Danish Pastry
Makes 1 dozen

1 Tbsp. or 1 pkg. instant yeast
½ c. warm water (110-120 degrees F)
2 c. flour
3 Tbsp. sugar
¼ tsp. salt
½ cup (1 stick) butter, softened
½ c. milk, buttermilk, or kefir
1 egg yolk

Cream Cheese Filling
8 oz. cream cheese
2 Tbsp. sugar or 1 Tbsp. honey
½ tsp. vanilla

Glaze
1 c. powdered sugar
1-2 Tbsp. milk

Combine yeast and warm water, let sit 5 minutes. Meanwhile, combine the flour, sugar, and salt in a large bowl. Mix the butter in, mashing as needed! Beat the egg yolk with the milk, then add them to the dry mixture. Pour the yeast mixture on top. Mix well. Cover and refrigerate dough at least 3 hours, but not more than 24.

Combine the ingredients for the filling- stir cream cheese, sugar, and vanilla until smooth.

Divide dough into two logs about 8" long; keep one in the fridge to stay cold. Sprinkle counter with flour, then put one of the logs on the flour. Sprinkle it with flour, as well. Roll to a rectangle about 8x14", then cut into 6 strips, each 14" long. Roll each strip into a rope, then shape into a coil on a greased baking sheet. Put about 1 ½ Tbsp. of the cream cheese filling on the center of each coil. Turn the oven on to 350 F. Cover the rolls and let rise while the oven heats and you roll out the next half. After the rolls have risen for about 20 minutes, bake for 15-20 minutes or until set and golden brown on the bottoms. Mix together powdered sugar and milk for glaze, then drizzle over rolls.

Leftover pastries can be frozen on the baking sheet, then transferred to ziptop baggies for longer storage. Best frozen within 3 months (but OK after that).