When the leaves start falling and skittling across the sidewalks, I start making warm, savory soup more often.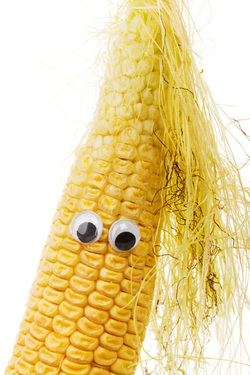 There's just one problem- most of my kids hate cooked onion.
At least, that's what they think.
What they're really opposed to is the slippery texture.
I've left onion completely out of soup a couple times and didn't tell them; everyone said
that
soup tasted funny.
So the trick is to get the onion in, in a way they won't recognize it. They have the same issue with celery.
Tonight we had Corn Chowder and everyone happily ate it, with its tender chunks of potato, sweet pieces of carrot, sweet and chewy kernels of corn, and crunchy oyster crackers
This is a really flexible recipe. The onion adds both savory and sweet, to boost the corn's flavor. Sometimes I'll add chunks of chicken to it, or ham, or bacon. Sometimes I add mashed potato to stretch and thicken the soup. For the creamy dairy flavor, you can use evaporated milk, half-and-half, a little cream, or milk- but milk won't give it as much flavor and body. I've even used coconut milk before, or, better yet, coconut cream. If you're used to eating low-sodium, you won't need to add any salt to this; the liquid from the canned corn may be enough for you.
This time, I stirred in a cup of leftover chicken gravy, a bit of liquid smoke to give it a bacon-y smell and taste, and a small amount of curry powder. Just enough to add 'something', not enough that it'd jump out at you. I also added a handful of parsley when pureeing the onion; while the flavor was good, the color was not pretty. More like split pea soup.
This recipe will make about 2 1/2 quarts. If you want to freeze the leftovers, use arrowroot powder instead of flour or cornstarch. It doesn't separate after thawing like the other two do.
Corn Chowder
1 medium onion
2-3 stalks celery
2 cans of corn (14-15 oz each)
4-5 medium potatoes, peeled and diced
1 carrot OR a handful of baby-cut carrots, sliced or cubed
1 can evaporated milk OR 1 ½ cups half-and-half
¼ c. flour OR 2 Tbsp. cornstarch

Flavor add-ins:
Salt and pepper to taste
½ tsp. liquid smoke
A bouillon cube or ½ tsp. bouillon granules
½ tsp. curry powder
1 c. diced ham OR 2-4 slices crumbled crisp-cooked bacon

Put the onion and celery in a blender. Add enough of the liquid from the corn that the onion/celery will blend. Puree until smooth. Pour into a large saucepan. Add the corn, including the liquid. (This has salt, remember that later!) Add diced potato and carrots. Bring to a boil, then cover and simmer about 15 minutes or until potatoes/carrots are tender. (This will take longer if the cubes are big.)

Mix ¼ c. of the evaporated milk with the flour or cornstarch, to form a smooth paste. Stir this into the hot mixture, along with the remaining milk. Bring back to a boil, stirring so nothing sticks to the bottom.

Taste a bit, then add whichever of the Flavor add-ins you have or feel like.