Do you always have problems making crust? Or maybe your great-aunt's favorite recipe works fine one year, but not the next? This recipe may solve the problem for you. When water soaks into flour, it creates gluten, which is fantastic for bread but makes pastry tough. The method below 'protects' some of the flour from soaking, by coating it with fat. This crust turns out flaky and tender, as long as you don't overwork the dough after adding the last flour and the water. Just remember-
cold and quick
. Keep it cold, handle it quickly so it doesn't get tough. Cold and quick. And yes, you need to spoon the flour to measure it. If you don't, you'll have different amounts of flour packed into the cup each time. It makes a big difference here.
If you need a pie recipe, check out the
Holiday Pies
post.
Rolled-out Crust This makes a single crust. Recipe can be doubled.
1 ¼ c. flour,
spooned in
to measure, then leveled off
¼ tsp. salt
1/3 c. shortening or coconut oil, or 6 T. cold butter, sliced
¼ c. cold water
Combine 3/4 c. of the flour with salt and shortening. Mix with an electric mixer for 30 seconds, until it is a paste and just starts to clump. Add remaining flour, mix in a couple short bursts just til evenly mixed. Sprinkle with water, a fourth at a time, lightly mix until it holds together when you grab a handful. Form into a ball, wrap, and chill 30 minutes. (You can freeze it at this point, too.) Chilling helps gluten relax, re-firm the fat, reduce sticking, and keep from shrinking. Roll out on floured surface, shape, fill, bake. Less handling= less gluten= more tender.
When the recipe tells you to blind bake, do you really need to weight the pie crust?

The crust on the left was lined with foil or parchment (either works), then filled with wheat kernels to hold the pastry in place while it baked. The crust on the left WAS the same size before baking- but with nothing to hold it, the sides schlumped down, shrinking the crust. This essentially changed a 9" crust into an 8" crust!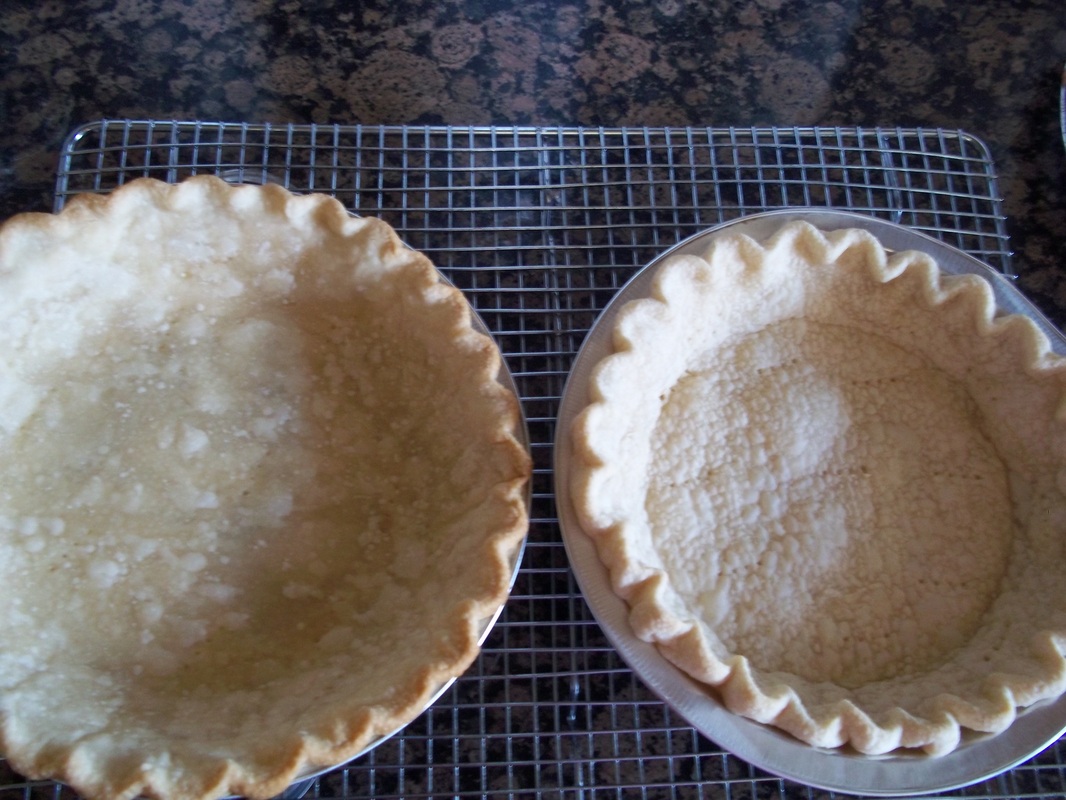 If your crust bakes up lower on one side than another, you don't have to be content with putting less filling in it. Fold a piece of waxed paper, parchment, or foil in half to double its thickness, then use it as a dam on the low side. Leave it there until after the filling has chilled and set, then pull it out. Now would be a good time to add a whipped cream border!