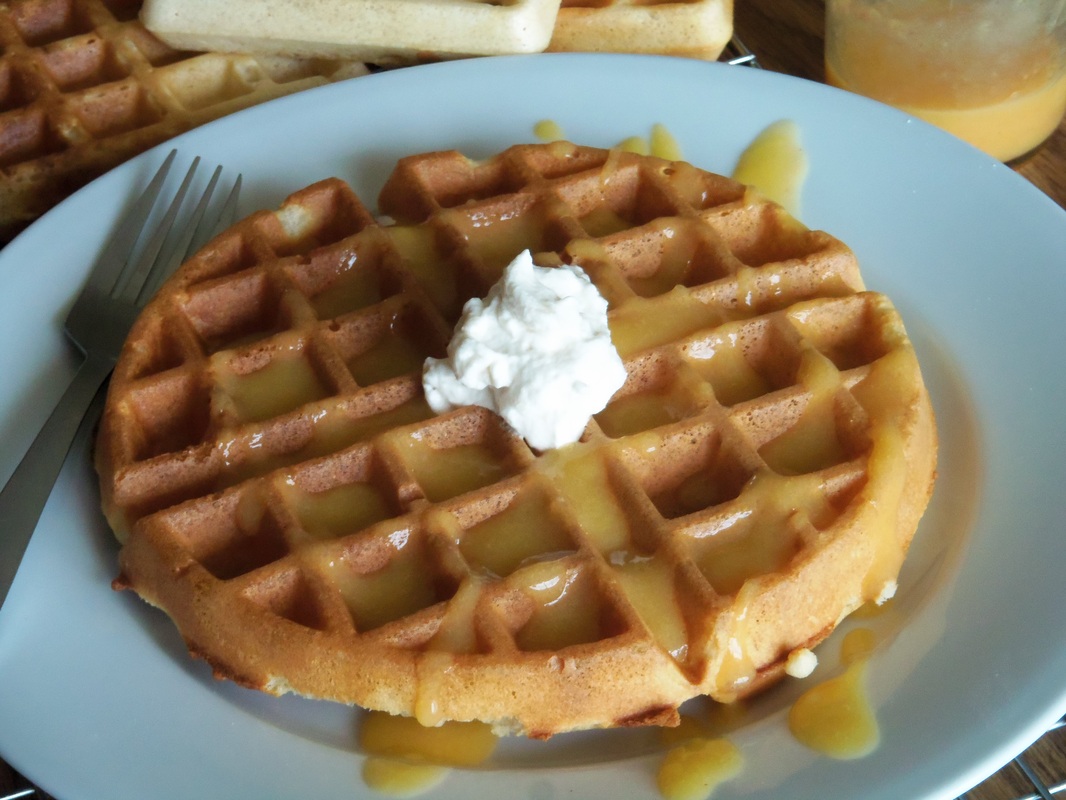 Ever since I tried a Mango-Orange-Banana smoothie at a little ice cream joint in Logan, mango with orange has been a favorite combination. We make our own version of that original smoothie, which our kids call "Dad's Famous Mango-Orange Smoothie"- because he's the one who makes it the most often. Maybe I'll post that recipe sometime. (Meanwhile, it's in
The Chameleon Cook
- you could always buy one from me!)
Anyhow, waffles or pancakes are the standard Saturday morning breakfast around here, and the typical American pancake syrup is way too sweet for our liking- or at least too sweet for the mom in me. As a result, we have all kinds of things to go on our pancakes-
Apple Cider Syrup
, homemade Elderberry jelly thinned with some water, a can of peaches drained and pureed then spiked with a bit of cinnamon or nutmeg, Golden Delicious apples sauteed in a bit of butter and stirred with a little brown sugar, ... and this, today.
I was more than a little surprised to find frozen mango chunks at our local dollar store. It sure saves time peeling then cutting the fruit away from a large pit. The 10-ounce bag I bought from Dollar Tree is enough for two batches of this.
Mango-Orange Sauce
Makes about 1 3/4 cups
1 cup mango chunks
1 1/2 c. orange juice
2 Tbsp. instant clear jel* or Ultra Gel
1-2 Tbsp. honey or sugar
a couple drops orange essential oil, optional
Put everything in a blender or food processor, and turn on high until smooth.
If your mango is frozen, this mixture will be pretty thick at first.
Top with
lightly sweetened whipped cream
or sour cream, or a dollop of vanilla yogurt.**The Instant Clear Jel thickens the sauce. If you can't find it, substitute 1 Tbsp. cornstarch OR 2 Tbsp. flour, then bring the sauce to a boil to thicken it.
______________________
To make the waffles, use the
Basic Quickbread Formula
with 2 c. liquid, 1/2 c. oil, 2 T. sugar, and whip the egg whites. This ends up looking like this:
Waffles
Makes 6-8 waffles
2 cups buttermilk, OR kefir, OR milk mixed with 2 Tbsp. lemon juice
2 eggs, separated
1/4-1/2 c. oil OR melted butter or coconut oil
2 cups flour (I use whole wheat)
1 tsp. baking soda
1/2 tsp. salt
2 Tbsp. sugar
Preheat your waffle iron/s. Beat the egg yolks with buttermilk and oil. Add the flour, baking soda, salt, and sugar, and stir until just a few lumps remain. Batter will be a little bit thin. With clean beaters in a clean grease-free bowl, beat the egg whites until medium-stiff peaks form. Fold them into the batter. Cook in waffle irons, using about 1/2 cup batter apiece- depending on how big the waffle iron is! If waffles aren't being eaten as fast as they come out, put them on a cooling rack so they don't get soggy as quickly.