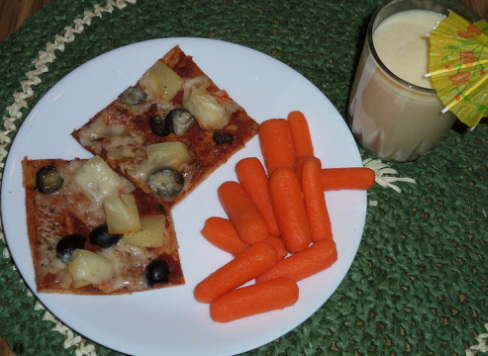 Between helping a sick 7-year-old catch up on homework, driving the carpool today, running kids to appointments, and half of them needing to be at their church youth activities an hour later, I needed an easy and quick dinner tonight. I had a batch of bread dough rising, so I heated the oven to 450 F, took a loaf's worth of dough, rolled it out to fit a greased cookie sheet, and baked it for ten minutes. While it cooked, I pulled out shredded cheese, opened a can of olives and one of pineapple, and stirred together some red sauce: 1/3 c. tomato powder, 2/3 c.
hot
water, and 1/4 tsp. salt (or use one 8-oz can of tomato sauce), then spices to taste: a few good shakes of oregano, basil, black pepper, onion powder, a pinch of fennel... whatever you have and smells good with it.
Spread the sauce on the hot pizza crust, sprinkle on the toppings, then put under the broiler for two minutes, until bubbling. If you want a few more mixing/cooking details, see
this other post
.
Since I'd only used part of the can of pineapple and also had some coconut milk in the fridge, I made
Pina Colada:
1 (20 oz.) can of pineapple (or almost a can, in this case)
1/2 cup coconut milk (or use 2-3 Tbsp. shredded coconut and 1/3 c. water)
Half a tray of ice cubes or one handful
1 Tbsp. mild molasses
1 drop lime essential oil or 1/4 tsp. lime zest (optional but adds just the right touch)
Combine in a blender; turn on high until smooth. Add a little sugar or honey if it's not sweet enough.
I didn't use any more sugar; the lime boosted the flavor enough that the drink didn't really need anything else.
To the pizza and drink, add a salad or other vegetable, and there's supper!