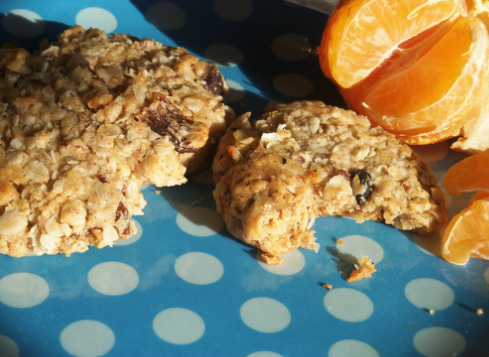 A few years ago, I opened up the Foods section of my local newspaper and spotted a recipe called "Just-the-Best Cookies". The version there was intended to be a healthier one, having reduced the nuts, coconut, and switching to oil instead of butter. Well, I've reduced the sugar and changed it to use honey, then added back the bigger amount of coconut and nuts, since we know now that healthy fats are, well, healthy! In moderation. And I love the crunch and flavor of coconut and nuts.

We have two breakfast times at my house- one for my highschoolers and husband, who have to be out the door by 6:45, and one for the rest of us, because some of them leave at 8:00 for the elementary school and Jr-High. These cookies make a fantastic, no-work breakfast for that earlier group- I make a batch, put them in a big ziplock bag after cooling, and pop them into the freezer. Then my early group can even grab and go, when needed.

These cookies are high in fiber as well, and lower in sugar than most. Two cookies are about the same nutritionally as one homemade, normal-sized muffin, and much better for you than commercially-made muffins! Two made without raisins contain 16 grams of sugar, which is less than you'd get in a bowl of cereal with milk. Especially if you count the size bowl my teenagers think is a serving. (I keep hiding the bigger bowls...)

Enjoy!

Just-the-Best Breakfast Cookies
1/2 c. coconut oil or butter
1/2 c. honey
1/2 c. brown sugar
1 large egg
1 1/2 tsp. vanilla
1/4 c. water
2 c. whole wheat flour
2 c. quick-cooking oats
1 tsp. baking soda
1/2 tsp. salt
1 c. shredded sweetened coconut
1/2 c. chopped pecans or other nuts, optional
1/2 c. chopped raisins, optional

Preheat oven to 350 degrees. Lightly grease or spray two cookie sheets. In a large bowl, beat together coconut oil and honey, then mix in egg, vanilla, and water. Add the flour, oats, baking soda, and salt and mix well. Stir in coconut, nuts, and raisins.
Roll into 1 1/2" balls, a little larger than a ping-pong ball. Place on cookie sheet, flatten slightly, and bake for about 12 minutes. Let the cookies cool 2 minutes on the cookie sheet before removing to a cooling rack. Makes about 36.

To make breakfast bars instead, spread all the dough onto one well-greased cookie sheet. Bake at 350 for probably 25 minutes. I don't know for sure because the idea popped into my head just now... Cool and cut into whatever size bars you like.