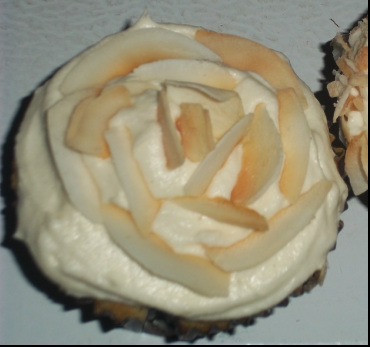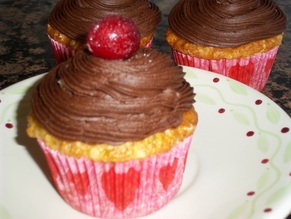 Are you craving a moist, flavorful cupcake? Maybe you'd like gourmet cupcakes to serve your sweetie on Valentine's Day?
The 'extras' added here- coconut extract, shredded coconut, lime juice and zest- make these cupcakes Coconut-Lime. Feel free to substitute whatever other flavors you like. Any flavor cake mix will work. You could make a pretty pink-speckled frosting for Valentine's Day by using one mashed strawberry in the frosting. Since it's contributing liquid, omit the lime juice.


Cupcakes:
1/2 cup white cake mix
1/4 cup water
a little coconut extract (about 1/16th tsp)- or other flavor, optional

Put a paper cupcake liner in each of two custard cups or microwaveable mugs. Beat the mix, water, and coconut extract together until smooth. Divide between the two liners. Microwave each one for about 35-45 seconds or until there's just a small wet-looking spot in the center. Let cool.

A very simple filling is a spoonful of vanilla Greek yogurt. Poke a hole in the cupcake with a spoon, lift the torn part up, and drop about a tablespoon of Greek yogurt. Jam is a good filling, as is pie filling or frosting. Just use less of these because they're so sweet.

Frosting:
1 Tbsp. butter, softened
1 Tbsp. sour cream (or Greek yogurt, cream cheese, or butter, depending on the flavor you want)
dash of salt
a little vanilla (1/16th tsp)
about 2 tsp. lime juice (or lemon if that's all you have. I used lemon juice and added a drop or two of lime essential oil.)
powdered sugar (about 1 cup)

Beat together the butter, sour cream, and salt. Stir in the vanilla and lime juice. Add 1/2 cup powdered sugar and stir until smooth. If it's not thick enough yet, add more powdered sugar until it is.

Spread on the cooled cupcakes, then top with some toasted coconut and finely grated lime zest.

If you want chocolate frosting, simply add 2 Tbsp. cocoa powder to it.