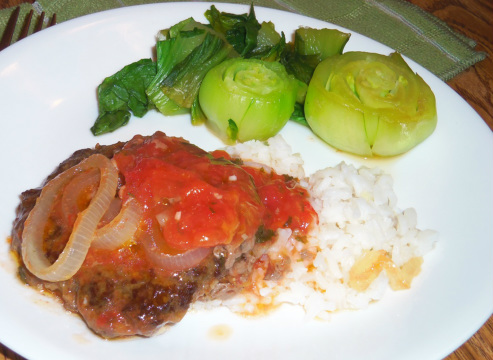 Swiss Steak was made, in the beginning, to be a budget-friendly main course. You take a cheap steak, pound flour and seasonings into it, and braise with tomatoes and onions until the tougher cut becomes tender.


Cheap steak is still pretty expensive in my book.

Hamburger is cheaper, and results in something that tastes just as delicious, even if the texture is different than having a solid piece of meat. That's OK with me. I was a little doubtful about the 'tomato gravy' when I first saw the recipe, but it is superb!
The original recipe came from America's Test Kitchen, but I've modified it a few ways...


Swiss Steak with Tomato Gravy
Serves 8

2 lbs. ground beef or 8 (4 oz) patties
salt and pepper
1 onion, sliced thin
1 Tbsp. cornstarch or flour
2 (14.5 oz) cans diced tomatoes OR one quart home-canned tomatoes (OR one can diced tomatoes and one can of chicken broth)
3 garlic cloves, minced
1/2 tsp. dried thyme OR 1 1/2 tsp. fresh OR 1 tiny drop thyme essential oil
1 Tbsp. chopped fresh or dried parsley
Cooked rice or noodles

Set an oven rack to the highest position and turn on the broiler. Shape burger into 8 patties (if they're not shaped already); set them on a rimmed baking sheet or in a 9x13 pan. Set onions on the baking sheet too. Sprinkle meat with salt and pepper. Broil patties and onions for 2-4 minutes or until they have a good browned crust at least around the edges. Turn off broiler and heat oven to 350 degrees.

Meanwhile, put the cornstarch in a medium saucepan and stir in about 2 Tbsp of the juice from the canned tomatoes. Stir until smooth, then gradually stir in the remaining tomatoes, plus broth if using it. Add garlic and thyme. Stir over high heat until it comes to a boil.

After the meat has come out of the oven, add the parsley and pour the tomato gravy over top. Return it all to the oven and bake 20 minutes or until done and tender.
Serve over rice or noodles, spooning sauce over.