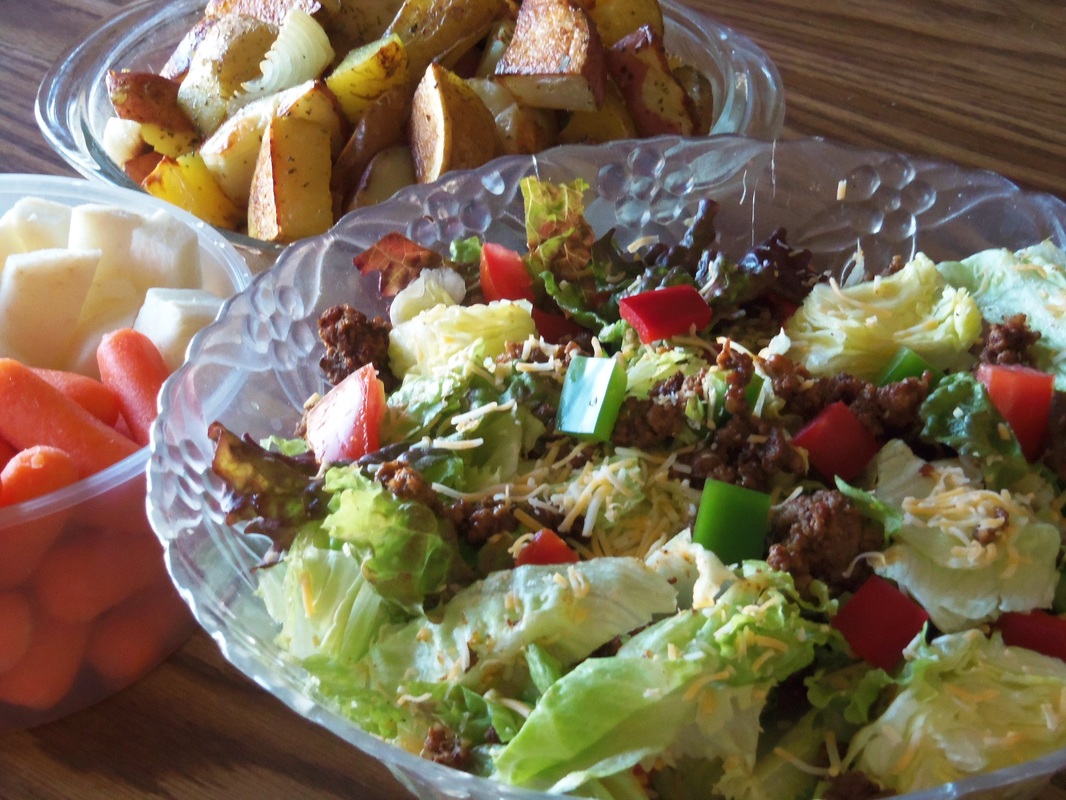 Why is it almost Taco Salad? Because there's no tostada or chips with it. If you want full-blown Taco Salad, just add some. Pretend they're corn-chip croutons. I didn't use those because of a sudden urge to make roasted potatoes and didn't want a lot more carbohydrates in the meal. Besides, if I opened a bag of chips, the whole thing would disappear, and that's anywhere from $1- 2.50, depending on if we're using cheap tortilla chips or Fritos. The potatoes, as our carb, cost about $ .50 instead. Yum.

Almost-Taco Salad

½ lb. ground beef
1 Tbsp. tomato powder
2 Tbsp. chili powder
Salt to taste
1 head of lettuce (or a half head each Iceburg and red leaf lettuce)
½ green bell pepper
½ red bell pepper
½ c. shredded cheese
1 tomato, cut in wedges
Optional: thin-sliced onion, sliced avocado, jicama cubes, cooked black beans, drained canned corn, canned green chilies....

Cook the beef until browned. Meanwhile, wash and chop lettuce and veggies. Put the lettuce in, then add the vegetables and most of the cheese; mix slightly. When the burger is done, drain off grease, then add tomato powder and chili powder. Stir to coat, taste and add salt if needed. Spread out the meat on a plate to cool more quickly. When it's cool, top the salad with it and the remaining cheese.

My family thought it was good without salad dressing, but if you want something to drizzle on top, Ranch is a good choice- especially if you mix a little chili powder into it-, OR this:

Creamy Garlic Dressing:

¼ c. plain yogurt or sour cream
1 Tbsp. water or milk
½ tsp. garlic powder
Salt to taste
1/2 tsp. dried parsley, optional, if you want it to look prettier

Whisk until smooth.
Serve with oregano-roasted potato wedges and vegetable sticks.