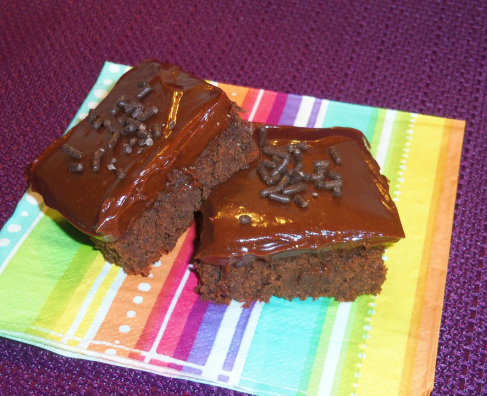 Apparently these have been popular in the food world for about a year... but I first saw them last week. My oldest son, the pickiest eater in the house, had noticed the printed recipe sitting on the counter for several days, grimacing everytime he walked past it. So when a batch of brownies appeared out of the oven, he cocked an eyebrow at me, asking "Are these what I think they are?", then declared he would NOT eat them.
After everyone else begged for seconds, though, he decided he'd try just one bite. Then a whole brownie. Then he had seconds too.
(YEAH!)
Black Bean Brownies
1 1/4 c. cooked black beans, rinsed (about a 15-oz can or 1/2 c. dry beans- cook first)
3 eggs
1/4 c. melted coconut oil or vegetable oil
1/2- 2/3 cup honey OR 3/4-1 cup sugar (brownies with the higher amounts are sweeter and more moist)
½ cup unsweetened cocoa powder
1 tsp. vanilla extract
½ cup whole wheat flour, OR 1/2 c.gluten-free flour plus 1 tsp. xanthan gum
½ teaspoon almond extract or orange extract, optional
½ teaspoon baking powder
1/4 tsp. salt
½ cup chopped walnuts, optional
¼ cup semisweet chocolate chips, optional
Preheat oven to 350 degrees. Butter or spray a 9x13 pan. Combine beans, eggs, oil, sugar, cocoa powder, vanilla, and almond/orange extract (if using) in a food processor or blender. Puree until very smooth. In a medium bowl, combine flour, baking powder and salt. Pour the puree over top, then mix both together. Stir in walnuts if using. Sprinkle chocolate chips on top. Bake about 25 minutes or until center tests done with a toothpick.
Cool.
To make these into Chocolate Truffle Brownies, omit the chocolate chips and frost with my favorite-ever chocolate frosting: creamy, soft, oh-so-smooth
Chocolate Blender Frosting
!