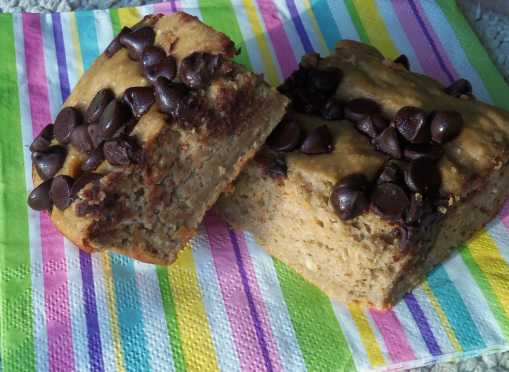 These have fiber, protein, and much lower in sugar than almost any baked treat! And they really are good. My family snarfed down this batch.
Besides all that, they're also wheat-free and dairy-free.

Healthy Peanut Butter-Chocolate-Banana Bars


1 1/2 cups cooked white beans (one can, drained and rinsed)
2 eggs
2 ripe medium bananas
1/2 c. peanut butter
1/4 c. brown sugar or honey (1/2 c sugar. if you like things on the sweeter side)
2 tsp. vanilla
1 tsp. baking powder
1/2 tsp. salt
1/2 cup quick-cooking oats

1/3 c. chocolate chips (the darker the better)

Preheat oven to 350 F. Put the beans, eggs, bananas, peanut butter, brown sugar, and vanilla in a food processor or high-powered blender. Run until very smooth. Stir in the baking powder, salt and oats. Spread in a greased 8x8 pan then sprinkle with chocolate chips. Bake 30 minutes or til test done with a toothpick. Cool at least 15 minutes before cutting. These are even better the next day.

For a variation on this, substitute pumpkin puree for the banana, increase sugar/honey to 1/2 c., replace almond or cashew butter for the peanut butter, then add 1-2 tsp. pumpkin pie spice.