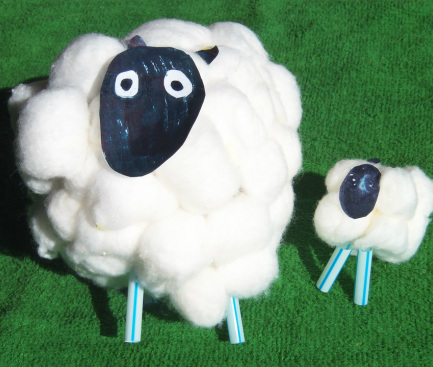 OK, OK, I know it's a whole three days after Easter, but this is still fun. We don't have to totally forget about a holiday after we've passed it, right? (The real reason this is delayed is that I spent the last week in a beautiful, very green place with no phone connection, no cell phone signal, and no Internet connection. This was ready to publish, I just couldn't get to the button.)
How about something fluffy and NOT sugary? This is a fun craft for kids anytime and has some deeper Easter meaning. It's simple but will keep them occupied for a little while. How about making a whole flock of sheep?
He shall feed his
flock
like a
shepherd
: he shall gather the lambs with his arm, and carry them in his bosom, and shall gently lead those that are with young. (Isaiah 41:11)
You'll need only
1 sheet of newspaper

Tape

Cotton balls

4 straws

Glue

White paper

Black marker


You can find the instructions at
http://www.lds.org/friend/2013/03/easter-activities?lang=eng
What about some other animals?