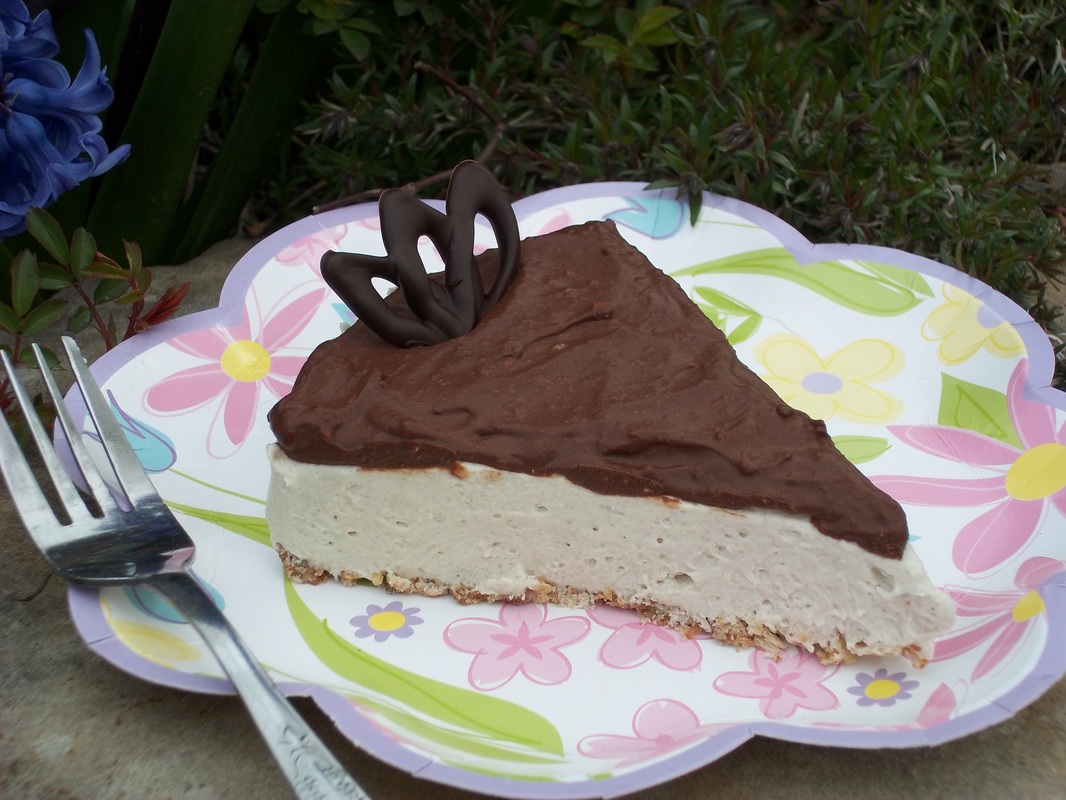 Some friends and I are in a healthy-living team competition right now... and there are just some times that the 'normal' healthy food doesn't cut it. This does! (So does
Bavarian Mousse
and the
Chocolate Truffle Pie
...)
Once again, this isn't technically sugar-free. It is, however, free of table sugar if you don't add the chocolate topping, as the filling is sweetened with a sauce made with pureed fruit. If you choose to include the chocolate on top, it adds only 3 grams of sugar per serving.
Sugarless No-Bake Cheesecake
Makes 6 servings
Crust
:
1 1/2 Tbsp. coconut oil, melted
1/2 c. whole wheat bread crumbs (or other crumbs, or fine shred coconut)
Pinch of stevia, or 1/2 tsp. honey, optional
Line a 7" round pan with foil, then spray with nonstick cooking spray. (A bread pan is the right size too- use an 8x4 pan for a thicker filling, 9x5 pan for a little thinner.) Stir together oil, crumbs, and stevia. Press on bottom of pan, set in freezer to chill.
Filling
:
1/2 c.
date caramel sauce
8 oz. cream cheese, softened (may use Neufchatel)*
1/3 c. plain yogurt
Pinch salt
1 1/2 tsp. vanilla
1 Tbsp. instant clear jel (Ultra Gel)
Beat together caramel sauce and cream cheese, until smooth. Add yogurt, salt, vanilla, and clear jel; beat on high speed until light. Spoon onto crust, smooth top and chill in fridge at least 30 minutes, but more firm after 2-3 hours.
Optional topping
:
1/3 c. extra-dark chocolate chips
1/3 c. plain yogurt
Heat gently or microwave to melt; stir until smooth. Spread on cheesecake after it has set.
*Since Neufchatel is softer, you'll need to increase Ultra Gel to 2 Tbsp. Or serve the cheesecake frozen.
I've made this using cottage cheese instead of cream cheese, it still works. Just plan on using a blender or food processor to mix the filling, and it'll take a couple minutes to get smooth.