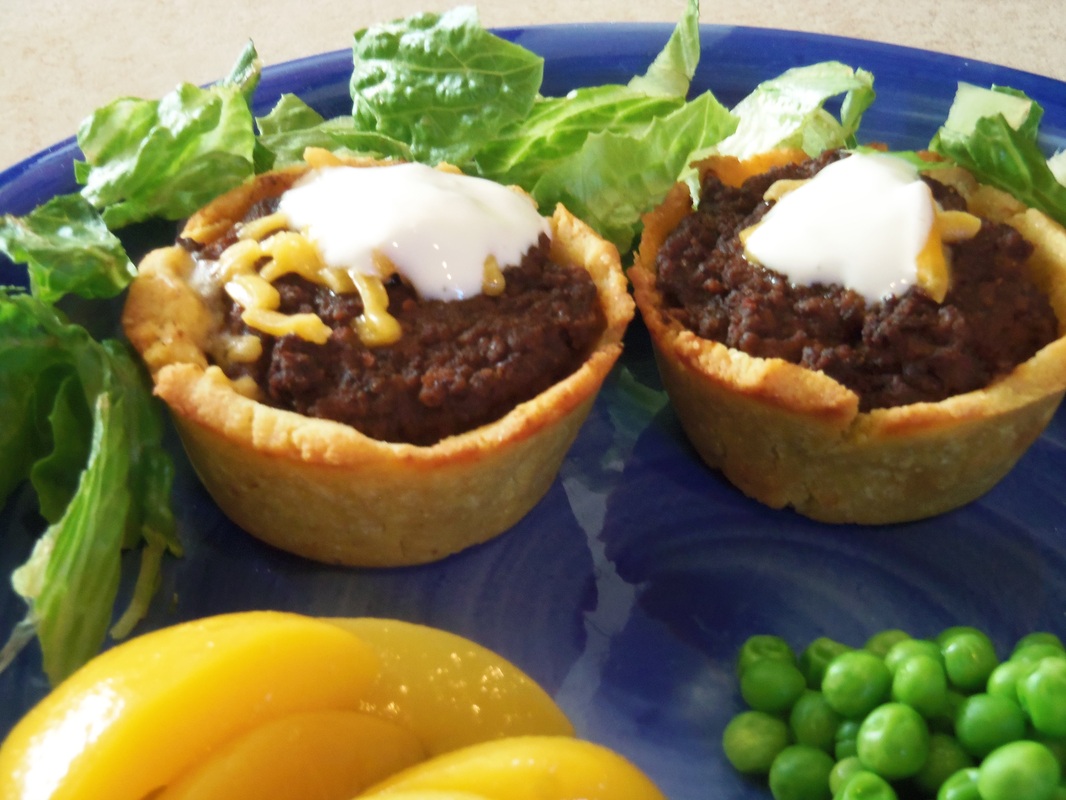 The sauce in this filling is from my great-grandmother, who I hear was an excellent cook. She lived in the 'Mormon' colonies in Mexico,
left in 1912 to avoid Pancho Villa
and other warring factions, returned after the Revolution, and earned money through millinery (making hats) and sewing. Her last few years were in Arizona, where she cooked and sewed at the
LDS Mesa temple
. This recipe was her enchilada sauce, only she used 3 cups of water and 3 Tbsp. chili powder when using it over enchiladas, since more liquid is needed for those.
These are gluten-free if you use cornstarch and not flour in the filling. Using shredded meat instead of burger makes these a little more authentic, but ground meat is awfully convenient. Unless you happen to have some leftover roast available to shred.
Individual Tamale Pies Makes 12 muffin-sized ones, or can be made into a 9" pie pan
Crust
:
2 c. masa harina (OR use 1 c. cornmeal and 1 c. flour)
1/2 tsp. salt
1/4 c. coconut oil or other fat (oil, butter, lard, etc)
about 3/4 to 1 cup water
Preheat the oven to 400 degrees. Mix all together to form a moderately thick dough. Grease 12 muffin cups. Shape a ball a little bigger than a ping pong ball (3 Tbsp. dough), then press dough in a muffin cup, making a layer about 1/4"- 3/8" thick. Repeat until finished. Set aside.
Filling
:
2 cups cooked burger or shredded beef, pork, or chicken
8 oz. can tomato sauce
2 Tbsp. butter, optional
1/2 tsp. salt
1 Tbsp. sugar
2 Tbsp. chili powder or to taste
1 Tbsp. cornstarch OR 2 Tbsp. flour
Mix together the meat, tomato sauce, butter, salt, sugar, and chili powder, and bring to a boil. Stir the cornstarch or flour into 1-2 Tbsp. water, to form a slurry. Gradually mix the slurry into the boiling mixture, cook and stir until thickened, about a minute. Taste it and add a little more salt if you like.
Spoon 1/4 cup of filling into each of the lined muffin cups. Bake for 15-20 minutes, until the crust is set and the filling just starts to bubble around the edges. Let sit for a couple minutes, then remove them by placing an upside-down cookie sheet on top, then flipping the whole thing upside down (see slideshow below).
Serve with plain or with shredded cheese, sour cream, chopped tomatoes, lettuce, or anything else that sounds good.