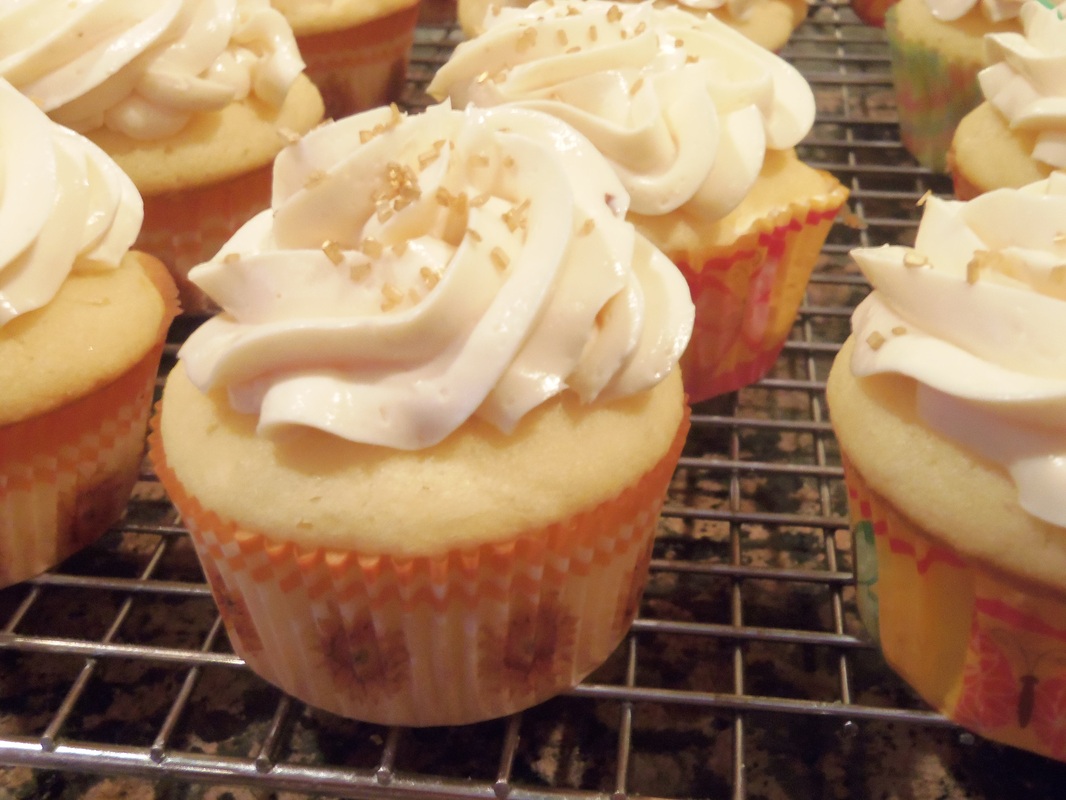 This is seriously amazing frosting, one you'll want to take your time eating, to capture every nuance of the flavor.

Why is it so good?

Well, look at the name. White chocolate. Butter. Cream. Need I say more?
Yeah, it wouldn't be smart to eat it every day. But- boy, is it delicious! Even better, it's really easy.

I found this in a magazine when my now-16-year-old was a newborn. Really newborn; a magazine at my hospital bedside. There were several intriguing recipes in there; I wrote them on a slip of paper, then tucked them in my recipe binder once at home. The paper is still there, and three of those recipes are now favorites of mine: Lattice Pineapple Pie, Orange-Coconut Muffins, and this frosting.

It's one to savor. You can also refrigerate or freeze this and shape it into truffles. Roll in chopped almonds, powdered sugar, sprinkles, or fine cookie crumbs, or dip in melted white or milk chocolate.

My favorite white chocolate for this recipe is Guittard white chocolate chips. To me, the Nestle white chips have a overly-cooked-and-sweet flavor, so I avoid those. Chips are cheaper than baking squares, and the good ones have a great dairy-and-vanilla taste. And I almost always use evaporated milk in this recipe; since it's a pantry item, I always have some on hand, unlike fresh cream.

White Chocolate Buttercream Frosting (about 2 cups frosting)

1 cup (6 oz.) white chocolate, melted and cooled- or 6-(1 oz) squares white chocolate
1/4 cup cream or evaporated milk, or regular milk if you must (not as rich- but passable)
1 cup cold butter, cut into 1" cubes
1 cup powdered sugar

Beat together the white chocolate and cream. When smooth, with the mixer running, beat in 1 cube of butter at a time. Add powdered sugar; beat about 2 minutes, until smooth and fluffy.

If you have essential oils, one drop of orange oil would add subtle dimension.