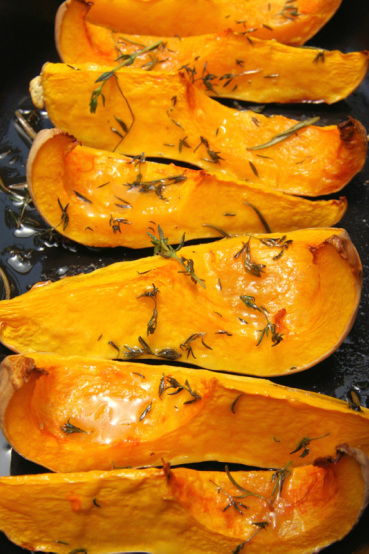 How about this for a new side dish? I love rosemary and olive oil. Or butter. Or both. :)
This recipe showed up at my house this week in a
save-the-farmlands
newsletter, of all things. (I'm all for saving farmlands, but how about nixing the property tax instead of government paying them subsidies?!) And since my live rosemary died over last winter and there's a bottle of rosemary essential oil in my cupboard, I adapted it to use that.
You can substitute about any squash you have on hand that is a similar size. Or use something large, like half a banana squash or pumpkin, or kabocha squash, etc, but if you do, then double the amount of other ingredients except rosemary oil.
Caramelized Butternut Squash with Rosemary
1 butternut squash
1 tablespoon olive oil
1/4 teaspoon salt
3 tablespoons unsalted butter
2 sprigs rosemary or
one
drop of rosemary essential oil (better if you have a 1 ml bottle, then use two of those tiny drops) on top of the butter
Preheat oven to 375 degrees F.
Cut the squash in half lengthwise; scoop out seeds. (You can wash, roast, and salt these, just like pumpkin seeds.) Put the squash cut-side up on a baking tray.
Drizzle with olive oil, sprinkle with salt. In each natural 'bowl' where the seeds used to be, add 1 Tbsp. butter and a rosemary sprig. EXCEPT: if using rosemary oil, melt 2 Tbsp. butter and add the drop to it. Pour half into the cavity of each squash half. Cover tightly with foil and bake for 45 minutes, or until tender when poked with a fork.
Remove from oven and pull off the foil; let cool until you can handle it. Scoop out the flesh.
Heat the last 1 Tbsp. butter in a large skillet over med-hi heat. Once melted and hot, add the cooked squash. Gently toss until some parts become caramel-y brown. Serve hot.
NOTE: the photo shows the squash as it comes out of the oven, not after being scooped out and browned. If you want it browned from the oven, do this instead:
When tender, pull off foil and brush the last tablespoon of butter over the cut edges. Return to the oven and turn on the broiling element. Broil, checking every minute. (I am not kidding. Seriously check every minute!) If your baking tray is on the middle rack in the oven, this will probably take about 3-4 minutes. If the tray is up high, close to the element, it might only take 1 minute, maybe 2.